As Australian menswear retailer Industrie reportedly seeks to expand its presence in the UK by opening up to 30 new stores, Retail Week takes a look at the company.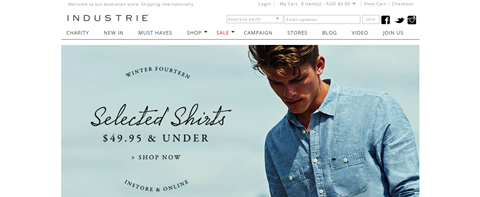 The retailer was founded in 1999 by husband and wife Nick and Susie Kelly as an "accessible, fashion-forward brand for young men" that sells its own range of clothes.
Initially its clothing was distributed in stand-alone stores and in all Myer department stores and a decade after being founded it was making $85m (£47m) turnover per annum.
In 2008 the company moved into children's clothing with the launch of its Indie Kids range.
The retailer revealed in 2009 it was exiting all Myer department stores after signing an exclusive deal with competitor David Jones, which came into effect in Autumn/Winter 2009.
The company now has around 80 stores in Australia, including concession stores.
Industrie picked London for its first shop outside of Australia and made its UK debut in London's Seven Dials in September of last year. The retailer had previously shipped to the UK from its website.
The Seven Dials store is 1,234 sq ft and located on Earlham Street and it is reported its strong performance has persuaded Industrie to expand its UK presence.
The company also has 12 outlets in New Zealand, including a flagship store in Sylvia Park, Auckland.
Founders Nick and Susie Kelly live on the exclusive Kutti Beach in Vaucluse in a house that has views across Sydney Harbour and is reportedly worth $20m (£11m).