Asos has revealed further details of its Apple Watch application which will be available to coincide with the new device's launch this week.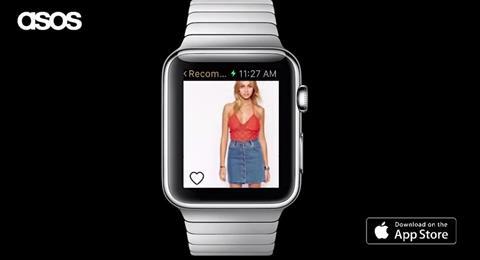 The Apple Watch officially goes on sale in the UK and, as revealed by Retail Week earlier this month, Asos is among the first wave of firms to launch an app for the watch.
The Asos app will includes features such as a 'Saved Alert' which will inform customers when a product they wanted comes back in stock or falls in price. The app will also provide personalised product recommendations based on customers purchasing and saving behaviour.
It will also integrate with Apple's 'Handoff' feature, allowing customers to save an item to their shopping basket on their watch, then jump to a mobile or desktop device to view the product in more detail, the company said.
Investment in mobile
Asos chief executive, Nick Robertson, said the firm will continue to invest in mobile technology for customers, as it believes more and more customers will be shopping on 'phablet devices' – a smart device smaller than tablets at around six inches, but can still be used as a mobile phone.
Robertson believes his customers will all have notebooks and tablet devices, but will be carrying around the larger mobile phones in their pockets – many of which will be connected to smartwatches.