Urban Outfitters' collaborations with Laura Ashley and French Connection have filled the fashion pages of the broadsheets and glossy mags alike.
The youth-focused retailer launched both collaborations in the US last month, while the UK equivalent of the Laura Ashley collection launched yesterday.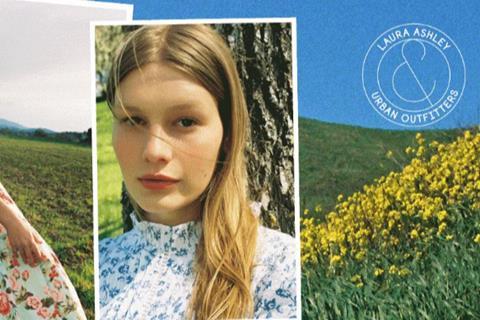 Both are relatively small, with the Laura Ashley collection consisting of 31 items in the US and just 12 in the UK. Products are priced from £26 for bikini bottoms to £85 for a maxi dress. The FCUK collection crosses both men's and women's and is made up of 11 items, which range from a $39 t-shirt to a $129 pair of cargo pants.
Many a column inch has been penned on the 1990s revival and the re-emergence of the prairie dresses that Laura Ashley was so famous for, surrounded by pictures of the collections. It's the kind of lavish attention that both brands could only have dreamed of in recent years with both retailers more used to profit warnings and tales of woe than a fawning fashion press.
The Laura Ashley collection has been especially well received, both by the press and the Instagramming public – the first look at one of the main dresses in the collection racked up 35,000 likes. The UK collection is less extensive than its original American counterpart and was released nearly a month later, but two of the standout pieces sold out online on the first day.
The FCUK collection is more basic and has received a muted response so far. It's also only available in the US, which, considering 'UK' is in the brand name, seems short-sighted. But this is also indicative of the power of throwback fashion among Gen Z. A 16-year-old blogger from Brooklyn wanting to wear a T-shirt that they have only ever seen in pictures is testament to the power of a) that moment in sartorial history and b) the internet's capacity to revive long-dead trends in a flash.
Riding on coattails
Despite the differences of the collaborations, the principle behind each collection is identical and the conclusions that we can draw mirror each other too. Laura Ashley and FCUK are representative of two of the biggest trends to emerge in recent years. FCUK keys neatly into the 1990s streetwear revival, which has seen brands such as Champion surge back to the top of every fashion influencer's shopping list.
Meanwhile, Laura Ashley's chintzy patterns and prairie silhouettes have been updated by the likes of cult New York brand Batsheva, which lists Laura Ashley as an influence on its Matchesfashion.com bio – where its dresses sell for around £400 – and The Vampire's Wife, established by former model and wife of singer Nick, Susie Cave.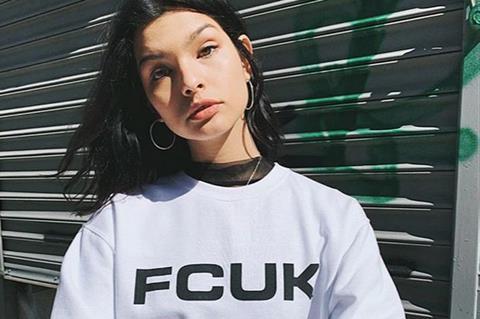 All of which goes to say: these trends have been in the offing, or happening, for some time.
While it's an undeniably savvy move for Urban Outfitters to take advantage with these collections, it's pretty shocking that neither Laura Ashley nor French Connection could get their act together sufficiently to benefit without riding on the coattails of another retailer.
Admittedly, French Connection has started selling FCUK T-shirts again in recent years, but with much of that collection now on the Sale rack it appears its interpretation of its 1990s' heyday has not hit the mark with consumers. It should have just revived pieces wholesale: vintage FCUK T-shirts are par for the course on Gen Z's favourite marketplace Depop.
Whether the retailers lack the operational nous to see how the product they are famous for taps into a trend or they believe they are unable to reach the target audience is unclear, though the latter seems more likely.
Of course, not all brands that dig into their archives come up with gold – see Marks & Spencer's ill-fated collaboration with Alexa Chung – but the apparent lack of attempt from two brands that could benefit from grabbing every opportunity with both hands raises concerns. It's also not difficult to target a certain demographic with a product now – much smaller businesses do it every day on Instagram.
Then again, these retailers may have made the calculation that their brand equity has fallen so far that simply shopping with Laura Ashley or French Connection would put their target market off. If that's the case, their problems are greater than missing a trend.
Becky Waller-Davies is Retail Week's senior reporter.