Operating profit up to £251.6m
Digital sales rise 23.9%
Like-for-likes down 2.3% in new financial year
Fashion giant Arcadia, controlled by tycoon Sir Philip Green, has posted a rise in earnings but like-for-likes have slipped in the new financial year.
Arcadia, which owns brands including Topshop and Burton, posted group operating profit before goodwill and exceptional items of £251.6m compared to £238.4m the previous year.
Sales edged up to £2.07bn in the year to August 29, versus £2.03bn the year before.
Underlying UK retail like-for-likes inched down 0.9% while total like-for-like sales were 0.7% down.
In the first 10 weeks of the new financial year total VAT-inclusive like-for-likes fell 2.3%.
Total worldwide digital sales were up 23.9% over the year.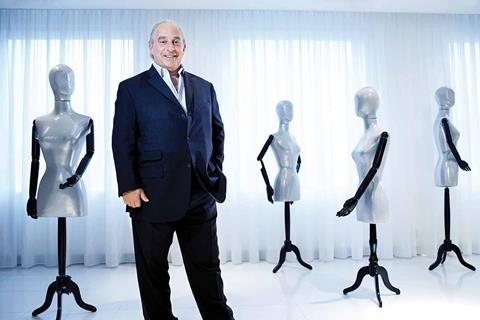 "Over the past year, we have continued to trade successfully in the UK across all brands, whilst expanding our operations internationally." Green said: "We are pleased once again to report strong cash generation of £328m, against the background of the fast changing retail industry. The number of channels through which customers choose to purchase and engage with us continually evolves, thus increasing the complexity of our operations. Hence our continued investment in the business as our need for efficiency and speed to market is paramount.
"Our digital wholesale business has expanded rapidly, and our brands now feature on multiple partner websites overseas, with our relationship with Zalando growing strongly across all of our brands."
Internationally, Topshop and Topman sales through US department store business Nordstrom rose by 50%. There are now 94 Topshop and 85 Topman concessions.
Green said: "We are in discussions to further develop additional space across both brands, as in the current year sales have continued to achieve double-digit increases. This is an exciting partnership with significant further growth potential."
In the US five new Topshop/Topman stores opened bringing the total to nine, and in the Netherlands a flagship launched in Amsterdam.
There was £118m of investment in Arcadia last year and there will be another £84m this year.
Green added: "We continue to invest heavily in new systems to support our international and multichannel development, and to refurbish our head office to provide our employees with a dynamic and creative working environment."
The retailer's UK property portfolio is under continuous review. At present Arcadia has 2,358 stores after exiting 86 premises and 236,400 sq ft of space last year as leases expired.
Green said that a pilot of Dorothy Perkins, Burton and Evans in Tesco, which comprises 14 branches in five Tesco stores, has delivered "very encouraging results to date".
In the current year the retailer will launch an activewear brand with pop star Beyonce. It is expected to launch in spring 2016.