Menswear was one of retail's boom sectors last year, but – as Whistles' exit from the category this week shows – it's not easy to get right. 
This week Whistles revealed it was to pull the plug on menswear, after five years operating in the category. Whistles had even opened dedicated menswear stores in the past.
Whistles is not alone. New Look has put its push into menswear on ice and is closing its men-only stores as part of its CVA.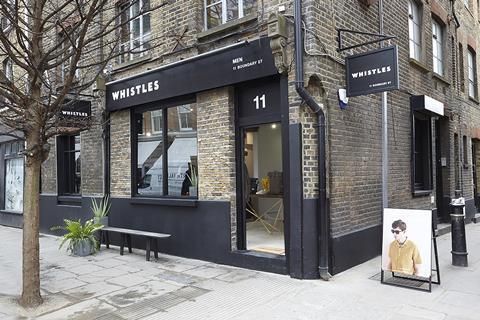 You'd be forgiven for thinking that menswear is a sector in trouble. This couldn't be further from the truth. Menswear was actually the best-performing sector online in 2018, with sales up an impressive 22%, according to data from IMRG and Capgemini. In comparison, womenswear grew just 8%.
And it is not just online where menswear is soaring. Analyst Mintel's most recent data published in March last year predicts that the UK menswear market, which is currently worth around £15bn, is expected to grow 11% by 2022.
The state of the menswear market
There are a number of factors driving the growth in menswear. As the womenswear market becomes increasingly challenging, fashion retailers have been catching on to the concept of the more fashionable man and pivoting their attention onto the menswear category to make up the sales.
It would seem more choice is stimulating more demand.
A lot of that additional choice is coming from online. Pureplay womenswear brands are starting to cross over to menswear, with Boohoo Man and Missguided's new menswear brand Mennace becoming increasingly popular with the help of celebrity endorsements and social media influencers.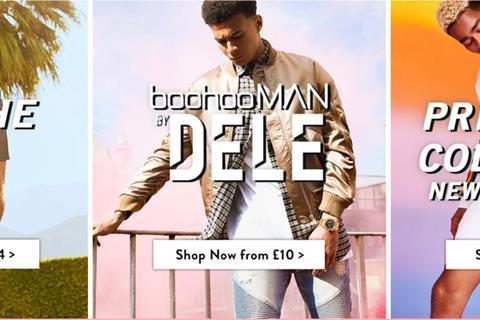 The relaxation of the white-collar dress code is also driving men to buy more clothes. Gone are the days of a plain suit and tie as everyday office-wear, giving men more scope to be creative with what they wear on a daily basis.
The casualisation of workplace attire has coincided with the rise of activewear, which is the driving force of menswear growth.
However, this has stimulated a backlash from some men who prefer more formal clothing, according to John Buni, founder of tailoring specialist Tailormade.
"We've seen growth in the last few years in terms of people wanting to dress up and smarten up especially in formal menswear," he says. "People have been saying the suit's back, but for us it never went away. It's just been growing."
Men are more likely than women to be prepared to spend more on quality clothes that last; 70% of male shoppers said that was their modus operandi for making a purchase, compared with 64% of female shoppers, according to Mintel.
This tallies with a surge in demand for luxury clothing. The luxury menswear sector grew 14% year on year with luxury sports shoes and bags surging 30.2% and 18% respectively, according to WGSN Insider.
Accessories were the driving force behind the total increase as smaller items are more accessible to a broader market, not just the affluent.
Winners and losers
As Whistles' departure from the category illustrates, not all are benefiting from the boom in menswear.
In fact, it is brands, rather than retailers, that are reaping the rewards, stimulated by the growth in athleisure and streetwear.
"Men like to buy into brands so that does mean that sometimes it's the mass middle market that doesn't do as well," says GlobalData global retail research director Maureen Hinton.
The demand for brands has helped JD Sports soar. The sportswear specialist recorded the strongest growth in market share over the past five years, rising from 3% in 2013 to 4.9% in 2018, according to GlobalData.
TK Maxx is another growth retailer in the menswear market. The discounted brand store recorded a 5.9% share of the market – up from 4.6% in 2013.
Amazon, which sells a plethora of branded product, is increasingly becoming a destination for menswear. According to a survey by Mintel, 26% of men said the ecommerce giant was their preferred place to shop fashion. The retail giant is increasing the number of premium sportswear brands sold on its site to tap in to the athleisure trend, and in 2017 unveiled its own clothing line, Find.
Meanwhile, Next and M&S, which sit firmly in the menswear middle market, are both struggling to appeal to their respective audiences, according to Mintel.
Menswear market share, according to GlobalData

| Retailer | 2013 | 2018 |
| --- | --- | --- |
| M&S | 10.6% | 8.3% |
| Next | 7.4% | 7.0% |
| Primark | 5.4% | 6.1% |
| TK Maxx | 4.6% | 5.9% |
| JD Sports | 3.0% | 4.9% |
Next has particularly struggled to attract young men. In 2017, 23% of men aged 16-24 bought from Next; this is down from 35% of the same age group in 2016.
M&S also struggled with its target demographic, as 62% of men over 45 said they don't enjoy shopping in-store, Mintel data showed.
However, M&S still holds the largest menswear market share of 8.3%, according to GlobalData. This might seem like a notable share, but compared to the 10.6% it held in 2013 this is a significant decline over the last five years.
Mintel senior fashion analyst Tamara Sender said in the report the flood of new entrants in the menswear market, which includes Boohoo Man and Mennace, has piled pressure on the mass market.
"The increased choice of retailers for men has made the menswear market much more competitive and made male shoppers more demanding and less brand loyal, meaning retailers need to do more to stand out and differentiate their offer," she says.
How men shop
Men are generally seen as mission-based, rather than discovery-based, shoppers so a frictionless experience is more crucial than ever. Unlike women who enjoy browsing, men tend to want their shopping experience to be over quickly.
"They look for something then they buy it. It's the hunter-gatherer in them," says Hinton.
This mission-based shopping lends itself well to online. In fact, over half of UK consumers prefer to shop online than in-store, according to research from search specialist EmpathyBroker.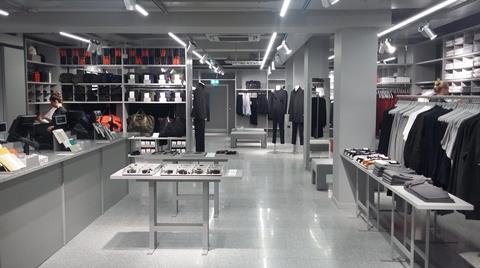 However, the bulk of sales still occur in-store and some general retailers are taking steps to make menswear more prominent there.
H&M's upmarket brand Arket has placed its menswear section on the ground floor in its Regent Street and Covent Garden stores.
This unconventional move gives its menswear collection more exposure and allows men to shop quickly and efficiently without having to search around the store for their section.
Hinton says retailers need to be sure of their target market and figure out the best way to sell to that customer.
"Just adding a menswear range in a womenswear store isn't necessarily the best way to sell to these men. Most of them would prefer to have their own environment," she adds.
"What's their lifestyle like, what are they willing to spend and how can they tap into that market?"
She attributes part of the success of BoohooMan to the fact that the retailer, which used to only sell womenswear, was distinct in its approach and messaging.
"BoohooMan performed well because you don't get that confused or feminine store environment that puts a lot of men off. It's convenient and fits in with the way they like to shop."
With economic uncertainty dominating the horizon and the womenswear market proving increasingly challenging, menswear could prove a boon to hard-pressed fashion retailers, if they get it right. But, as recent high-profile departures from the category prove, getting it right is easier said than done.