The buck stops with Sir Philip Green, argues MP Frank Field
BHS was sold to a 'manifestly unsuitable' buyer
BHS was 'systematically plundered' at expense of staff and pensioners
Tycoon Sir Philip Green has been savaged by MPs for his role in the collapse of department store chain BHS earlier this year.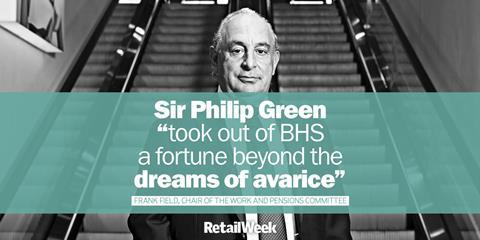 Green was among many involved who bear culpability for the demise of BHS, a joint report from the Work and Pensions and Business, Innovation and Skills committees found.
However, they judged that the Arcadia boss, who sold BHS for £1 last year to incompetent buyers led by Dominic Chappell, must ultimately shoulder responsibility for its collapse, which cost 11,000 jobs and put 20,000 people's pensions at risk.
They said that there had been "systematic plunder" of BHS by the various owners, advisers and "hangers-on who all got rich or richer" and called upon Green to act to address BHS's pension fund deficit.
Jump to Retail Week's analysis
"Sir Philip Green's reputation as the king of retail lies in the ruins of BHS"

Chair of the Work and Pensions Committee Frank Field
Chair of the Work and Pensions Committee Frank Field said: "One person, and one person alone, is ultimately responsible for the BHS disaster.
"While Sir Philip Green signposted blame for 11,000 job losses and a gigantic pension fund hole to every known player, the buck stops with him.
"His reputation as the king of retail lies in the ruins of BHS. His family took out of BHS and Arcadia a fortune beyond the dreams of avarice, and he's still to make good his boast of 'fixing' the pension fund.
"What kind of man is it who can count his fortune in billions but does not know what decent behaviour is?"
The MPs accused Green of selling BHS to "incompetent and self-serving" owners in Dominic Chappell and Retail Acquisitions. Chappell also effectively "had his hands in the till", the report found.
Corporate governance at Taveta, the holding company of BHS at the time of its ownership by Green, was also lambasted and the role of advisers sharply criticised.
The MPs said: "Advisers were paraded by both sides as an expensive badge of legitimacy for people who would otherwise be bereft of credibility while Taveta directors failed to provide a semblance of independent oversight or challenge in a corporate group run as a personal fiefdom by a single dominant individual."
Chair of the Business, Innovation and Skills Committee Iain Wright said: "The actions of people in this sorry and tragic saga have left a stain on the reputation of business which reputable and honourable people in enterprise and commerce will find appalling."
"While BHS staff face uncertain job prospects and pensioners worry about their future entitlements, it's clear that a large cast of directors, advisers, and hangers-on enriched themselves off the back of BHS."
Analysis: what do the findings mean for the wider retail industry?
As with the recent inquiry into working practices at Sports Direct, the BHS investigation holds implications for retailers more widely – perhaps particularly for those, like BHS, that are privately held.
The report states: "The demise of BHS was the result of a series of bad business decisions and personal greed. We fear, however, that some of the failures which allowed this to happen are not unique to BHS.
"Its lessons merit broader consideration of the framework in which companies operate. We will do so from a pro-capitalist perspective. We want entrepreneurs to be encouraged and accept that business failure is an inevitable part of the process.
"Reputable businesses are, however, appalled by events at BHS. Those events set out a path of further investigation for the two committees."
Governance
While standards of governance at public companies tend to come under close scrutiny, the situation can be different at private businesses.
The MPs believed that poor governance standards played a big part in what went wrong at BHS.
They wrote: "Weaknesses in corporate governance contributed substantially to the ultimate demise of BHS including: the failure to address the pension deficit; the failure to challenge effectively RAL's [Retail Acquisitions] proposal to buy BHS; the hurried agreement of the deal in the absence of the chair; and its subsequent rubber stamp ratification.
"All members of Taveta group boards have serious questions to answer about their performance as directors in allowing Sir Philip Green to sell BHS."
Other retailers, especially those that are privately held, can expect increased attention upon their board structures and directors' responsibilities and, potentially, greater legal requirements.
The report states: "That private companies are not subject to the same transparency requirements and codes of conduct as their public counterparts in no way absolves them of their wider responsibilities.
"Parliament is rightly cautious about imposing onerous new duties on our companies; but if large public or private companies do not behave in accordance with the ethical standards that society expects, further regulation may need to be considered."
Some other retailers will now be reviewing their own governance to ensure that sufficient checks and balances are in place.
Retail relevance
The collapse of BHS was partly because it had failed to adapt to – and invest for – a rapidly changing environment, according to the report.
The MPs said they "don't doubt that Sir Philip had some affection for BHS – to an extent it created him".
But they observed that during the Green family's ownership of BHS there was "no evidence of improved turnover, market share, or major increase in investment that might be expected from a leading retailer.
"Investment was evidently either inadequate in scale or ineffective in improving the competitive edge of the business."
It is a reminder of an imperative that other retailers will be all too aware of – the need to build businesses fit for purpose and able to compete in a ferociously competitive environment.
Pensions
The shortfall faced by BHS pensioners remains unresolved and was at the heart of the inquiry. The future of occupational pensions, the MPs observed, "is perhaps the greatest challenge facing long-standing British businesses."
They said: "It should not be forgotten that these liabilities are promises of deferred pay to employees. It is imperative that the regulatory framework does not allow sponsor companies to evade those responsibilities and, in doing so, pass the burden onto other schemes that pay the Pension Protection Fund levy. There may be a case for stronger and more proactive regulation."
Retailers, like other businesses, will be under increasing pressure to ensure they confront any concerns about their pension schemes and work pro-actively with trustees and relevant bodies to find solutions.
Being seen to 'do the right thing'
The BHS report came just days after that into Sports Direct's employment practices, and perhaps there is one over-riding conclusion to draw.
Companies may operate within the letter of the law but they are increasingly being judged on whether they are acting in the 'right' way.
There is no question that Green's reputation has been put through the mill following the collapse of BHS and the parliamentarians argue he now has a "moral duty" to resolve the BHS pension situation – one which will "undoubtedly require him to make a large financial contribution".
Other retailers will be more conscious than ever that their corporate reputations hold up as well as their trading.