While much of mainstream retail continues to suffer amid a changing consumer landscape, new models of commerce are emerging.
The changing consumer environment was in focus at the NRF Big Show and, outside the conference hall, the city's freshest crop of retail businesses provided new inspiration for how retail models are being transformed.
Monetising community
One of the fastest growing and most famous businesses to come out of New York in recent years is Glossier. The millennial-focused skincare and makeup brand converted its showroom on downtown Lafayette Street, which was only open on an ad hoc basis, into a full-blown flagship store in November.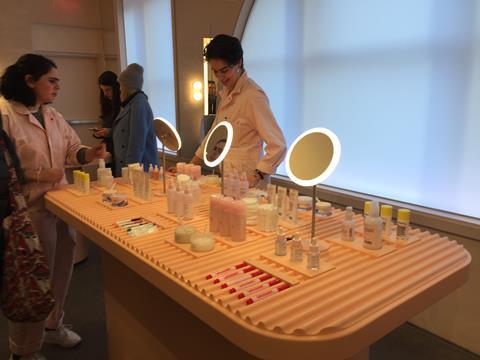 But the most interesting aspect of Glossier is that it has successfully turned the traditional retail model – manufacture or acquire a product and then sell it – on its head. Its business model is a new chapter in the direct-to-consumer movement.
In 2010, founder Emily Weiss began to foster a community through her blog, IntoTheGloss, which is now a bona fide force in beauty publishing. Four years later, IntoTheGloss launched the first Glossier products and subsequently has added more, 'dropping' a new product every few months, in the style of a streetwear brand, to maintain the hype around the brand and its products.
While many beauty consumers are known to be very invested in the category – just check IntoTheGloss' comment section where readers discuss the science behind niacinamide serums and exchange secrets on the best pharmacies in Paris – creating a community first and then making a product for that highly engaged group of people is a model that will surely be recreated elsewhere.
Glossier's annual revenues were expected to hit $100m last year and the Glossier showroom now generates more sales per sq ft than the average Apple store, according to Weiss, who told New York magazine's The Cut site that the flagship was designed as a destination. "For you to go out of your house and make a pilgrimage somewhere, there needs to be a reason," she said.
Inside the store, sales assistants wear jumpsuits in the same shade of blush that Glossier helped to cement as 'millennial pink', as is every fixture and fitting, helping to create, in Glossier's words, "the ultimate physical expression of the brand".
Fractional ownership
A few blocks away from Glossier sits The RealReal. The luxury resale business was founded as an online-only operator in 2011 by Julie Wainwright with an initial investment of $100,000.
Instead of relying on customers to take the initiative to approach it, The RealReal often approaches target customers, visiting their homes and assessing the resale value of the luxury goods in their wardrobes.
Consignors receive between 70% and 85% of the money the business makes on reselling their goods, having authenticated them. This is a USP because many of the luxury goods sold on some platforms cannot be guaranteed to be authentic.
After six years, The RealReal branched into physical space and opened its SoHo store, and just last August opened another branch on Los Angeles' Melrose Avenue. It plans to open more stores so it can showcase its hundreds of thousands of items, all managed as a single stock inventory.
The retailer is one of a coterie of resale platforms that have sprung up over the past decade. While vintage clothing is not new, technology has enabled a vastly improved shopping experience and extended the customer pool.
The 'circular economy' helps to alleviate the feeling of 'peak stuff' that makes many shoppers increasingly uneasy
Additionally, The RealReal is coming of age at a time when ethical consumerism seems to be crossing into the mainstream and the fashion industry is under scrutiny over environmental sustainability.
Wainwright believes this 'circular economy' does not just benefit consumers, it helps to alleviate the feeling of 'peak stuff' that makes many shoppers increasingly uneasy.
"Just think about it: next year, we're going to pay out half a billion dollars to people," she told the Financial Times. "We're putting that back into the economy. That's a lot of money. And [the brands] are slowly getting the fact that we're actually helping them; because as soon as we remove things from your house, you've got physical space."
The RealReal, and other second-hand fashion platforms such as Depop, are part of the fractional ownership movement, which despite freeing up money and wardrobe space, also gives consumers another option. Instead of buying a brand new item, they are now able to buy it second hand and sell it on third hand and even rent it from a business such as Rent the Runway.
Rent the Runway has not yet had such stellar success in the UK as the US where, one New York-based retail consultant says, women treat it as an extension of their wardrobe, often visiting between going to the gym and arriving at work. Customers pay a $139 monthly fee to rent four items at a time. Functioning much like a library loan, whenever an item is returned, another one can be taken out.
The evolution of the physical store
Although online shopping continues to grow, the majority of sales are still made through shops and bricks and mortar clearly still has a purpose, albeit a changed one.
While much has been made of showrooming and 'experiential' retail is still seen by some as physical retail's saviour, recently opened stores in New York show fresh thinking.
The new Nike store (watch out for a feature on retail-week.com soon) has generated much interest. Showfields, meanwhile, claims to be the "most interesting store in the world" with its new take on the department store comprising residencies for brands and highly curated floors with as much event space as selling space.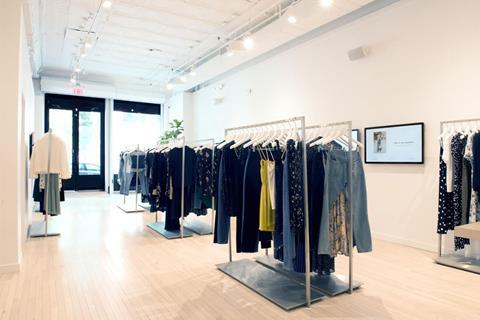 Californian fashion brand Reformation is also making strides. Its Bond Street New York store is part-showroom, part-warehouse, with just one sample version of each piece on the racks. If a customer wants to try on a product, they use iPads to add them to their wish lists, along with their sizes.
An assistant then curates a changing room for the customer, putting clothes in a closet in the changing room with two sets of doors. One set is for the customer and leads to the changing room, the second is to the back-of-store warehouse, where the product is normally housed. This is similar to Zara's Westfield Stratford store, in which click-and-collect product is housed in an in-store warehouse and delivered to the customer via a tech kiosk.
Another touch screen in the Reformation changing room lets customers request more items and sizes, cleverly avoiding the awkward experience of them having to stick their head around the door to try and get a store assistant's attention. The customer then closes the wardrobe, which sends a signal to the warehouse staff to refill it with the requested item. When it's ready, a voiceover informs the customer, adding, with a very on-brand touch, "I dare you".
Customers also have the opportunity to change the lighting, plug in their own music à la Uber and the touchscreen presents complementary products in an attempt to cross-sell.
While many stores that attempt hi-tech upgrades come across as more clunky than cool, Reformation has thoughtfully integrated tech into its physical experience, making sure it is on-brand, unobtrusive and adds to the physical experience while not duplicating the online one.