Primark's unbeaten run continued in its latest results as the value retailer yet again beat the market, even as others crash around it.
While the retailer's clear proposition – the cheapest trend-led product on the high street – is responsible for much of its success, the contribution made by its culture and operational approach should also be recognised.
One key tenet of Primark's success, says retail analyst Richard Hyman, has been its softly, softly approach.
While to the consumer the retailer seemed to burst on to the scene fully formed in the mid-2000s with its first Oxford Street flagship, Primark had been plugging away in the background for decades, gradually building its success one store at a time, trading up from tertiary to secondary locations before taking prime space on one of the most famous shopping streets in the world.
"There is so much more to that business than the popular perception. It is more granular and considered than that"

Retail analyst Richard Hyman
"That careful, step-by-step management allows it to fine tune along the way," says Hyman. "It's a real hallmark of what they do. There is so much more to that business than the popular perception. It is more granular and considered than that."
Similarly, its range development has been gradual. With a stellar clothing business, the retailer could have jumped headfirst into beauty.
Instead, it dipped its toe into the market and let the results inform its strategy – its PS beauty range now brings in £98m, excluding VAT, according to GlobalData estimates, while its market share has increased from 0.3% in 2013 to 0.5%.
The company has also taken its US business slowly at first, opening nine stores in three years. It took the retailer a decade to open 45 stores in Spain, and George Weston, chief executive of Primark parent Associated British Foods, has said its approach to America will be "similarly measured".
This baby-steps approach is the opposite of the 'fail fast' approach espoused by many retail leaders trying to adapt in a post-Amazon landscape.
Alternative route
Primark has frequently taken the road less travelled. Take selling online, for instance. The retailer experimented in its usual cautious fashion by selling on Asos in 2013, lessening its exposure to costs and risks by using a third-party marketplace. It did not achieve what it wanted with the experiment, so stopped the trial.
Most retailers that decline to adapt their model when the world changes do not fare well. That Primark has continued to thrive shows how shrewd a decision this was and how sure its executive team are of its proposition. Their position has since been proved right: sales per square foot rose from £475 in 2013/14 to £490 in 2017/18.
"Our footfall has gone up and yet footfall elsewhere is falling most of the time – go figure"

John Bason, Associated British Foods
Primark has not ignored the importance of the digital world, however, and has invested in its social media presence while also ploughing money into its store environment.
"People who are engaged with social media have a bigger choice than they ever had," says ABF finance director John Bason. "So there is an intense focus in Primark to make sure store experience is the best it can be.
"We are delivering like-for-like growth because people are choosing to go to our stores – it is not just about price. Our footfall has gone up – we could not have delivered those numbers without it. And yet footfall elsewhere is falling most of the time – go figure."
Execution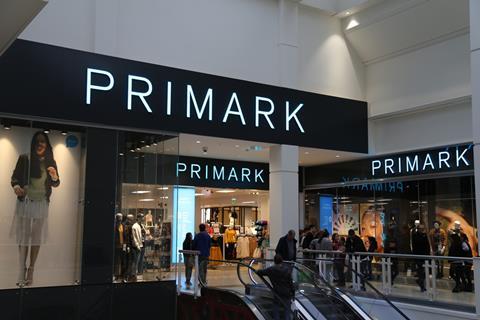 Investing in stores, forsaking online trading and erring on the side of caution make for an unusual strategy and do not reveal any secret formula,ripe for aping by young upstarts. But if there is a secret to Primark's phenomenal success it is how it executes its atypical strategy.
Unlike most industries, retailing has many consumer touchpoints, from hundreds of stores to millions of website visits, each vulnerable to going wrong.
"The opportunities to get it wrong are infinite," says Hyman. "Execution is critical and Primark is exceptionally good at it. Their operational machine is dedicated to executing and does that tremendously effectively."
One example, he says, is how chief executive Paul Marchant spends his time.
"Nine out of 10 senior people in retail are tasked with doing anything other than their job," he adds. "You never hear from Paul Marchant – he is too busy retailing to talk.
"It's a massive advantage. He is able to spend all his time focusing on the things that are actually at the very heart of the business and, I would say, that is not the case with any other business of its size."
This laser focus is exemplified in its buying teams, which Bason credits with helping Primark to stay on top through the current retail downturn.
"What has always really impressed me about Primark is this fascination, this obsession, with merchandise," he says. "From the chief executive down to a very talented group of buyers, they are constantly looking at changes going on and react quickly to trends – there is a fixation with that in Primark.
"It's a keen eye for commercial and for detail and for what people want. It sounds very basic but it's very hard to do."
It is that talent for execution that seems to make everything Primark does fly. As Hyman says: "Today in retail, so often it is not what you do, it is the way that you do it. Two companies can do something similar and one will succeed and one will fail."
Retail is detail, as the saying goes. Primark's success shows it is the embodiment of that mantra.