"It is a fact of life for those of us who are established high street retailers that one way or another, less clothing, homeware, electrical goods and food are going to be sold on the high street and more sold online," Wolfson said.
He added that there would be "no change in the direction of travel… this isn't aberration or equilibrium".
But while much of the commentary about retail focuses on the unparalleled nature of change, Wolfson maintained "this type of change is not unprecedented".
He said: "The emergence of supermarkets in the 1960s heralded a profound change in the way people shopped for food. Old structures of supply and distribution were replaced with new and better ones. People no longer had to go to several shops to buy their food and the choice and value on offer to consumers was dramatically improved."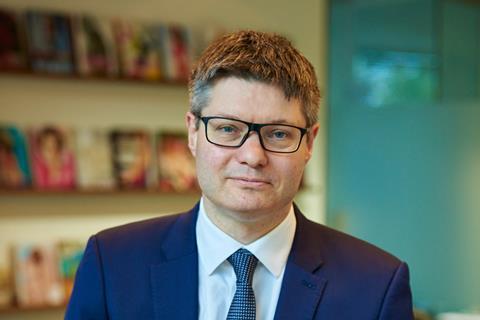 He was optimistic about Next's place in the new world – more so, perhaps, than many of his contemporaries might be. "We believe that this market represents a long-term threat to our retail business but potentially, a much larger opportunity for the group as a whole," he maintained.
Lord Wolfson ran through various models that he believed could reflect Next's future in 15 years' time, though he emphasised that he was crystal ball gazing rather than forecasting.
"No one can predict the future and the numbers are very unlikely to turn out exactly as modelled," he cautioned. "They depend on too many unknowns, not least the quality of our execution and continued innovation which, by definition, cannot be foreseen.
"It is not necessarily the path we will follow but it is a way through the woods – a realistic scenario under which we might deliver a growing, profitable and potentially world-class online clothing and homeware business."
Property
It typically costs multichannel retailers more to run online and store operations than it does single channel players, but Next believes that costs are unlikely to rise any further.
"The evolution [to multichannel] required has not been easy, nor is it without cost," Wolfson said. "Retail costs such as rent, rates and service charge have remained fixed as sales have fallen, whilst every additional order online has increased variable costs, such as warehouse picking and delivery costs.
"Last year, every pound of Next business that transferred from retail to online cost an additional 6p. In the short to medium term, the costs of structural change will persist.
"These costs mean that we have had to work very hard to stand still and the year ahead looks like more of the same. Remaining positive in these circumstances might, at first, appear challenging. However, as the direction of travel becomes clearer [we have] increasing confidence in the longer-term growth prospects for the group."
"Perhaps our increasing traction overseas is evidence that the internet is breaking down the geographical fashion boundaries"

Lord Wolfson, Next
His confidence is for three reasons. The first is that stores will become an increasingly important part of its online business. Half of online orders are dropped off at stores and 80% of online returns go through stores.
Second, he believes retail costs will decline in the long term and not be "an everlasting weight on the business".
Next said that the amount of retail space it operated in the future would depend on whether the cost of property accurately reflected the reality of retail trading conditions and that it believed that its stores would be fewer in number, possibly smaller and much less expensive.
Next is currently reengineering its property portfolio as its sales shift from store to online. In 2003, retail sales comprised 77%. In 2018, that fell to 47%.
Last year, the business negotiated a rent reduction of 29% on the leases that it renewed with an average lease term of six years, meaning that rents fell around 5% every year. Using that model, it predicts that in 2034 the business will pay 59% less rent on its stores.
The retailer added to its model a scenario where retail like for likes declined 10% and there was 7.5% growth in online including overseas and concluded that it could keep 120 loss-making stores open to service its online platform, on top of a core chain of 150 branches. While Wolfson was quick to emphasise that the model was not a plan, he said that it proved that a "radical restructure of the company's cost base and sales profile is possible over time".
Platform

The third reason for Next's confidence in its longer-term prospects is that the internet offers "new and unexpected opportunities for growth as a UK aggregator and overseas brand".
Because of the ease of online market entry for rival fashion brands, it will be difficult for Next, and other legacy brands, to maintain market share but it could grow both overseas and as a platform.
The retailer's third-party sales now make up 22% of the total, from zero in 2003. Next harbours ambitions to be viewed as an Asos-like platform, selling both its own brand and others from its Label collection.
It currently views its distribution network as the main strength of its platform but aims to make that even better, along with other improvements, to build a platform which is the customer's first choice and the most profitable third-party route to market for partner brands.
International
The final piece of the puzzle is international expansion. In 2003, Next did not sell overseas. Last year, overseas sales accounted for 17% of total revenue.
The business says the same factors which mean it will lose market share in the UK will help it expand overseas.
"Low barriers of entry alongside the ability to tap into overseas third-party platforms have allowed us to make good progress in developing a profitable and fast growing £360m overseas online business," Wolfson said.
"Perhaps our increasing traction overseas is evidence that the internet is also breaking down the geographical fashion boundaries. Little by little the world's fashion markets appear to be becoming less distinct – bad news for competition in our home markets but good news for us overseas."
Wolfson is often viewed as one of retail's most far-sighted leaders. Others are likely to pore over his ideas and see whether what might make sense for Next may also make sense for them.
Analysis: Next's Lord Wolfson on how retail could look in 15 years
1

Currently reading

Analysis: Next's Lord Wolfson on how retail could look in 15 years

2

3