Primark and Boohoo have both reported market-beating results as their fast fashion offers resonated with customers around the globe.
On the face of it, the pair run very different operations – Boohoo sells exclusively online and Primark is notable for its prowess in selling purely through bricks and mortar.
But it is not so much their sales channels that are most relevant to their success. Instead, it is how they function.
Certain characteristics are common to both retailers – a fact emphasised recently by the appointment of former Primark chief operating officer John Lyttle as Boohoo chief executive.
Although Boohoo is often viewed as an online wunderkind, it arguably has more in common with a traditional retailer such as Primark than its online counterparts such as Asos and Zalando.
It does not speak about itself much as a tech company and instead adopts a trading mentality that would have traditionally been at home on the high street.
Meanwhile, Primark does not let the lack of an online channel stop it from rapidly delivering on trends or catering consummately for customers who throng its shops.
Always on trend
Epitomised by its dedicated £5 dresses section, Boohoo is known for its on-trend fast fashion at low prices. With more than 70,000 styles delivered across the group over the last 12 months, Boohoo's offering is vast and co-founder and executive director Carol Kane knows that to evolve its product offerings the group must keep doing what it does best.
"What's been really big for us is investment in product," she says.
Neon, animal prints, primary colours and checks have driven sales across all the brands – NastyGal and PrettyLittleThing, as well as the eponymous business – and Kane attributes its growth to making those trends inclusive for all customers.
"We've spent the last 12 months developing inclusivity across the brands, including sizes," Kane says. "We've gone up to a size 26 and down to a size four – that's part of the incremental growth we've seen across the international markets."
"What has always really impressed me about Primark is this fascination, this obsession, with merchandise"

John Bason, ABF
Boohoo achieved a 48% increase in revenue to £856.9m for the year ending February 28 and was able, thanks to high demand for its product, to push prices up slightly. In turn, that lifted group margins up to 54.7%.
"Generally, across the group and across the different geographies, our prices are a little higher at the moment but that's mainly a result of strong demand for products" Boohoo chief financial officer Neil Catto says.
"The market nowadays is very promotional and that will always continue, but obviously you can see in our numbers that our margins are higher than last year."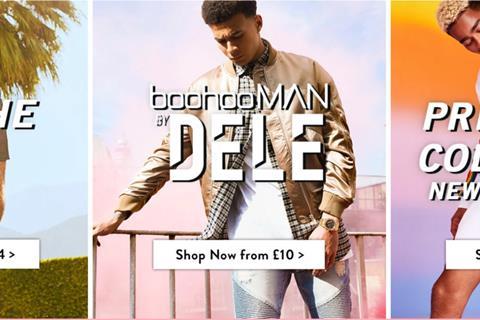 Primark's adjusted operating profit surged 25% to £426m during its half year, while total revenue was up 4% to over £3.6bn. Like for likes grew 0.6% in the tough UK market.
Primark also improved its margin over the half thanks, in part, to its product skills as well as better buying, and tighter stock management led to lower markdown levels.
Parent company ABF's finance director John Bason has credited that approach with helping the retailer stay on top through the current downturn.
"What has always really impressed me about Primark is this fascination, this obsession, with merchandise," he says. "From the chief executive down to a very talented group of buyers, they are constantly looking at changes going on and react quickly to trends – there is a fixation with that in Primark.
"It's a keen eye for commercial and for detail and for what people want. It sounds very basic but it's very hard to do."
Last year, that merchandise included utility wear and retro prints, both of which the buying team delivered at sharp prices. Primark's USP is price and the retailer gears its operations towards delivering value to customers year after year: forgoing what are viewed as normal parts of a retailer's budget (such as advertising) helps it achieve that.
Technical mastery
Primark's buying team draws on a supply chain that has developed, in some key cases, over 10 to 20 years.
"This is about where we buy and the supply price we get for it," Bason says. "It's about getting great merchandise that people want and how you do key lines and great volumes."
Lyttle wants to take some of that supply chain expertise with him to Boohoo and has poached Primark supply chain director David James to help him.
"What I'm hoping to bring to the table in terms of my experience is, if you look at the expansion of Primark over the past eight years, products and sourcing and sustainability and everything that comes with that," Lyttle says.
"I think the 'test and learn' model is fantastic in getting fashion to the market quickly"

John Lyttle, Boohoo
Technical wizardry can be seen across the operations of both retailers. Primark is exceptionally good at shopkeeping, epitomised in its new Birmingham store, while Boohoo excelling at that same discipline online.
Boohoo's Burnley distribution centre was extended and automated over the year and the new technology making for a seamless picking and packing process – a vital attribute for an etailer.
This automation will not only help the etailer process the orders quicker and help reduce costs it will aim to extend the cut-off time for next-day delivery.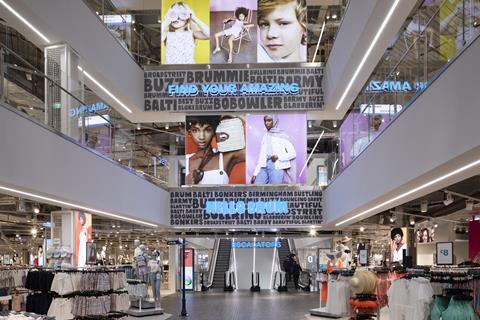 "We're hoping to get that to midnight," Catto says. At present the cut-off time is 11pm.
For a millennial needing a last-minute outfit, this is massively attractive.
What's more, automation will also help Boohoo process peak better, with the Black Friday backlog, which historically took a week to process, easing significantly.
"If you look at the trading period around that time of year, it just gets more and more concentrated around Black Friday so your approach in terms of offer and discount and delivery is getting more important and that's true for virtually every county in the world now," Catto says.
While Primark creates eye-catching in-store theatre, Boohoo draws eyeballs in a way appropriate to its online audience. The group spent £80m on influencers in the past year, bringing in names including celebrity heiress Paris Hilton and footballer Dele Alli ."Constant launches and collaborations have been our winning formula," Kane adds.
Test and learn
Lyttle tells Retail Week he was impressed with Boohoo's 'test and learn' approach, which allows it to react to the market accordingly and efficiently.
"I think that model is fantastic in getting fashion to the market quickly, but from a low stock investment point of view. If something doesn't work, you're not burdened with a lot of stock," he says.
While Primark is unable to test and learn to the same extent with its product, it applies an evidence-gathering approach to its operations.
"We have a considered approach," Bason says, referring to Primark's US expansion.
It has previously trialled formats in different locations, from city centre to suburban malls, while fine tuning its sales densities and ranges, but believes it has now alighted upon the right iteration of store for the market and intends to roll it out across the US in a "thoughtful" way.
"The power of Primark over these years has been store by store," says Bason. "We are not targeting a specific number; it's about getting locations that are right for now and for the future."
As long as Boohoo and Primark remain on top of their game, their ascent is likely to continue. They show no matter what channel retailers trade through, executional excellence at every level ultimately makes the difference.
Analysis: How Primark and Boohoo are beating the market
1

Currently reading

Analysis: How Primark and Boohoo are beating the market

2

3