Menswear retailer Moss Bros posted stellar interim results on Wednesday, with like-for-like sales up 4.9% and pre-tax profits soaring 30%.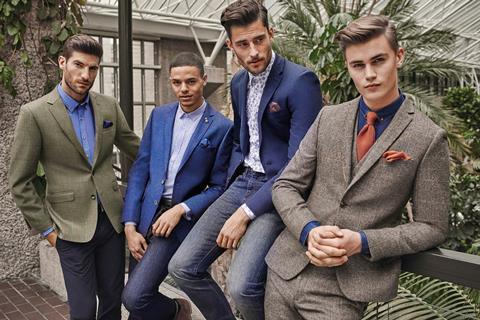 These are numbers most would envy at any time, but against a backdrop of a volatile market for fashion retailers that has seen leaders such as Primark and Marks & Spencer stumble, they are even more impressive.
Chief executive Brian Brick says Moss Bros' move away from discounting has helped the retailer thrive but value is still a big part of its proposition.
"We are still a promotion-led retailer," he says. "We still talk about price when we talk about the brand."
Moss Bros now runs one promotion at a time, rather than three, and has removed its mid-season Sale. This has had a positive effect on its retail gross margin, which was up 3.3%. Gross margin now stands at 61.9%, up from 60.1% in the first half of 2015.
Clear brand differentiation and a tailored etail proposition
Moss Bros benefits from its clearly differentiated brand offer. Its three sub brands, Moss London, Moss 1851 and Moss Esquire, which launched two years ago, continue to signpost its offer.
It has now added another layer to this by launching the Tailor Me service. Available in the majority of stores, Tailor Me is a simplified version of a bespoke fitting, allowing customers to pick up a tailored suit within 30 days without the usual high cost.
The service feeds directly into its growing online sales. It is perceived that shoppers don't buy suits online, and while ecommerce makes up just 10% of Moss Bros' total sales, this grew by 9% over the half.
Moss Bros sells a very similar mix of product online as it does in store and new chief financial officer Tony Bennett, who joined from Charles Tyrwhitt in February, says that the etail success was down to data capture.
"From a data point of view we are well placed," he says. "In the physical environment someone can be sized up and we then capture their details at the time, so that their second, third, fourth purchases can be as accurate as they are in store. We leverage the store estate to allow customers to rebuy directly from their iPad in the comfort of their armchair."
Prioritising staff and customer communication
Moss Bros' customer service proposition also sets it apart. It is relatively rare to have a value-led brand which requires a high level of interaction with customers owing to its product mix.
Brick emphasises how important listening to customers is for Moss Bros. "Our style is, if you hear something on the shop floor, feed it back," he says. "Make sure communication is open.
"We have invested more in training, we have staff focus groups, which we didn't have before, and we have nicer environments. When we do up stores we also make sure that the backroom areas are nice places for the staff to work.
"We are running a business and need to make numbers add up but if you have a happy workforce you'll have a happy customer."
Don't let international become a distraction
Moss Bros is exploring new growth opportunities, including moving its brand overseas. However, Brick is determined not to be distracted from the opportunities at home.
Two pilot stores in the Middle Eastern have opened and while Moss Bros has identified "potential for further expansion", Brick sounds a note of caution on allocating too much resource there.
"We want to keep it tight," he says. "And the major reason for that is because we have a lot of opportunity in the UK. We are not a big management team and we see our international opportunity in ecommerce instead."
He adds that Moss Bros views international bricks-and-mortar expansion as "something that's further down the road" to be pursued it in good time.