As the UK prepares for life outside the EU after Article 50 is triggered today, we take a look at some retailers thriving further afield.
Clarks
Clarks' domestic operations have come under the spotlight of late after it kicked off a strategic review of its 550-strong UK store portfolio last month.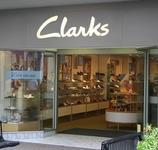 However, the footwear retailer is leaps and bounds ahead of its rivals in terms of its international offer.
With overseas operations in 75 international markets, Clarks is the fourth-largest footwear retailer in the world.
The heritage retailer has a special place in the heart of the Chinese shopper and tourists from the country have been known to flock to its shoe museum in Somerset, where the business was founded in 1825.
And whilst the specialist retailer may be associated with picking up plimsolls at the start of the school year, it has decidedly more cachet overseas.
The footwear retailer's desert boots are part of a decidedly different uniform overseas as a mainstay of Jamaican reggae artists and the subject of a book called Clarks in Jamaica published in 2012.
Cath Kidston
Cath Kidston's quirky British prints have proved a hit overseas.
The brand, founded in London in 1993, currently has international expansion at the top of its to-do list and, as of 2016, was operating a total of 145 international stores.
It is particularly popular in Asia where it has 125 stores.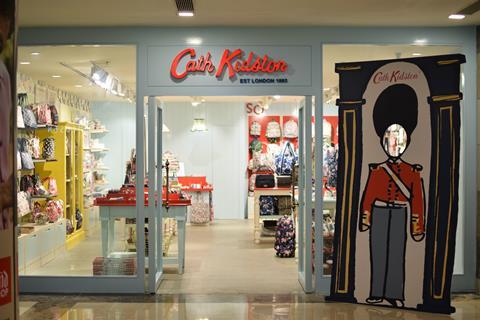 Reflecting this, Baring Private Equity Asia became the controlling majority shareholder in October 2016, after the retailer agreed to purchase its 27-strong franchise business in Japan in 2015.
The fashion and lifestyle retailer also opened its first store in India last year in Delhi's Ambience Gurgaon.
The group plans to launch further stores in India in the next few years, which boss Kenny Wilson described as a "very important market".
The retailer, with 70 UK stores, is also pushing into Latin America with both standalone shops and concessions across the continent.
Dune
Clarks isn't the only footwear retailer taking a big leap into the wider world of retail.
Footwear retailer Dune now has 100 outlets overseas – both standalone stores and concessions.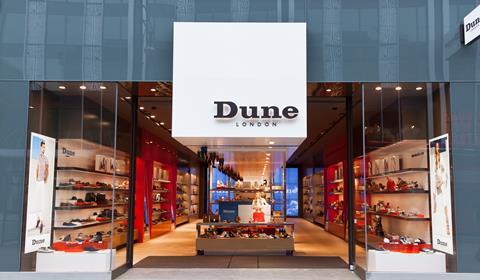 The Middle East, Africa and Asia have been identified as key expansion markets, with the majority of stores being run on by franchise partners.
The US has long been seen as a market with huge potential for Dune and te retailer has three stores already open and more likely to be in the pipeline.
Dune has also focused on offering multiple shipping options to over 130 different countries through its partnership with international ecommerce expert BorderFree.
Wiggle
The specialist sports retailer made nearly half (43.3%) of its overall sales from international markets in 2015.
This came after the retailer cut back its international offer in 2014 to 21 key markets after conceding that it had "overstretched" itself with its initial overseas ambitions.
Wiggle has switched international quantity for quality and is focused on launching local-language websites in all its major markets as well as localised payment solutions and marketing strategies.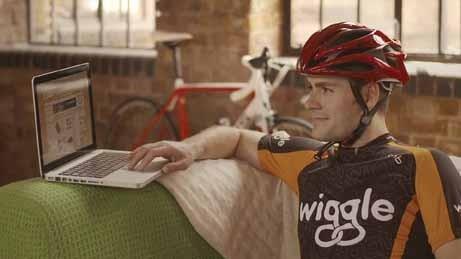 To this end, the specialist retailer has a presence on Chinese social media network Weibo.
The sports retailer has also revved up its bricks-and-mortar presence overseas and has service and repairs concessions in partnership with local retailers in Australia, New Zealand and Hong Kong.
The drop in the value of the sterling following the Brexit vote does not seem to have put the brakes on the retailer overseas ambitions.
Incoming boss Will Kernan, who Wiggle poached from The White Company last month, said accelerating "global growth" as one of the retailer's top priorities.
WoolOvers
Knitwear retailer WoolOvers is proof that niche retailers can grow just as rapidly overseas as mainstream brands.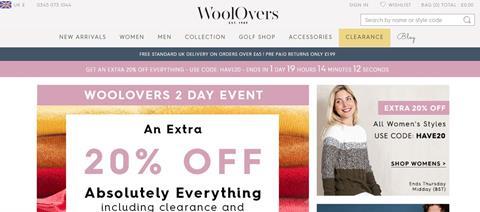 The business, which started life selling its specialist knitwear at country shows, now makes 40% of its sales overseas.
After 14 years of shipping overseas to countries including Canada, Australia and the US, Neil Sanson, the former Moss Bros omnichannel director who was appointed WoolOvers chief executive in 2015, is driving international growth by rolling out fully transactional websites in key countries.
Outside of the EU, it has sites in Russia, Australia and New Zealand and has a rest of the world site, Wooloverslondon.com.