Fashion retailer Joules posted market-beating results this morning, with sales and profits soaring in the year following its IPO.
The lifestyle retailer has consistently reported market-beating results and its first year since floating is no different.
Joules' underlying pre-tax profit in the 52 weeks to May 28 surged 34% to £10.1m while sales rose 19.6% to £157m.
But with the rest of the fashion market sluggish at best, what is so special about Joules?
Retail Week lists five reasons why it's beating the market.
Lifestyle retailer
The phrase 'lifestyle' retailer is perhaps overused, but there's no denying that most of that coterie are storming ahead of the rest of the market.
"There are also humorous asides in its marketing and product names – its short wellies are called wellibobs, for instance"
Joules is no exception and its laser focus on its customer's way of life has seen it flourish. It has zeroed in on a particular type of shopper and is not interested in catering to the masses.
Joules has tapped into the lifestyle of this target customer with aspirational marketing campaigns which portray middle-class variants of the countryside and coastal dreams.
There are also humorous asides in its marketing and product names – its short wellies are called wellibobs, for instance.
Product handwriting
Joules' strong brand is evident in all of its product, with its striped tops, bright macs and colourful wellies identifiable at 50 paces.
This strong handwriting helps Joules' cost base too as it updates rather than overhauls best sellers such as its macs and wellies.
This steadfast dedication to its own aesthetic means that it is not at the mercy of fast fashion trends or being undercut by other retailers: if customers want a Joules look, they have to shop with the retailer.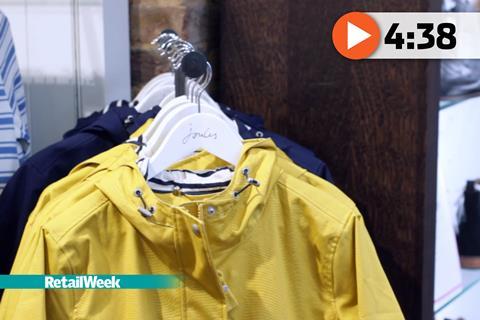 Category expansion
Joules has expanded into categories other than clothing in recent years, with bedding, crockery, stationery and even pet beds.
Its strong product handwriting and distinctive prints help these categories to bring in their fair share of revenue as existing customers extend their penchant for Joules from their wardrobes to their homes.
Joules also has its eye on big-ticket items, with boss Colin Porter identifying sofas as a potential category within the next few years, although no immediate plans are on the table.
International ambitions
Joules' international sales rose 36% last year and they now account for 11.5% of all sales.
Much of its international revenue comes from the US, where Joules operates department store and independent accounts, and Germany, which is purely independent.
From spring/summer 2018, Joules will operate its own independent wholesale accounts in both the US and Germany, cutting out the middle man and so accelerating further revenue growth.
But Joules is staying clear of opening its own stores in either of its main international territories, with boss Porter saying today that although Joules is likely to open standalone stores eventually, there are no plans on the horizon yet.
Variety of locations
Joules has five different types of store: lifestyle; local; high street; metro and premium outlet.
It treats each store type differently and is hyper aware of the different types of customers and customer journeys that happen around these locations.
By opening separate branch types they are able to create customer touch points at different points in customers' lives, whether they're on a seaside break in affluent, picturesque Aldeburgh or idling away time during their commute from King's Cross.