As Nick Robertson bows out from Asos, we take a look at how his vision of online retail became a leading role model for the global fashion industry.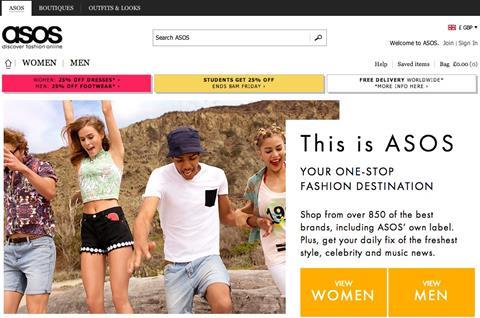 1. It was the first retailer to launch catwalk videos
For the 20-something shopper today, zooming in to check the detail of a dress or rotating a pair of Boots is second nature when browsing online. But back when Asos launched, static images were commonplace.
Robertson and his team knew that customers – then accustomed to buying at physical stores – would want to get more of a feel for what a dress or skirt really looked like when it moved, before going ahead to make a purchase.
In 2006, Asos set the bar when it launched catwalk videos across the site – becoming the first UK online store to do so.
"When you see the cloth moving you get a better sense of its weight and length," Nick Robertson later told the Financial Times. "That really helps the decision making process and also keeps returns low."
The move paved the way for many other fashion retailers to follow suit, and now videos have become a common – and for many clothing retailers, critical – part of the online shopping process.
2. It was the first retailer to launch a fashion magazine
Like Net-a-Porter, Asos was ahead of the curve by crafting engaging content alongside its products in order to create a more sellable environment.
In 2006 Asos founded its own print magazine, featuring fashion advice and makeover tips in addition to the clothes sold on its website, and sent out 100,000 copies to its customers. The magazine still continues to flourish.
Years later in 2014, premium peer Net-a-Porter followed suit with Porter, its own glossy fashion magazine.
3. It nailed online delivery and fulfilment before its competitors
Remember the days when you used to receive your online orders seven days later? Asos pushed the bar when it came to fulfilment and deliveries, knowing convenience was key in keeping its core 20-something customers happy.
Asos quickly sped up the process, launching next day delivery, and later same-day delivery, heaving extra pressure on other retailers to step up their fulfilment game.
In 2013, Asos moved one step ahead again when the London-based company became the first retailer to let customers track their home delivery in real-time through a service with DPD called Follow My Parcel.
Robertson said at the time: "Knowing exactly when a parcel is being delivered helps our customers plan their day; to be at home when they need to receive a delivery, or to let them get on with what they need to do by opting to reschedule or choosing the deliver to neighbour option."
Its 'free returns' policy has also been an instrumental part of the retailer's success, with Robertson believing Asos should "give customers want they want".
4. It realised the importance of mobile
Robertson has always been aware of the importance of mobile, and stayed ahead of the game through launching Asos mobile in 2010 and apps for the iPad and iPhone in 2011.
It came as no surprise to learn that in April, Asos was one of the first retailers to launch an app for the Apple watch. The app offers personalised product recommendations based on customers past purchases and items they've saved to their shopping bag.
5. It keeps abreast of trends – even outside of the industry
Asos has always been keen to tap into what's happening outside of the industry. When podcasts became popular, the team at Asos wanted in.
In July, Asos became the first retailer to launch a weekly podcast on its website. It partnered with Swedish podcasting platform Acast to produce and edit the podcast, presented by the retailer's team of journalists.
Another key example is Tinder. Asos didn't follow through with a dating app, but it looked at how the tool could be applied to its own model. The result was 'New In', an app that lets users browse new products daily and swipe right – just like Tinder with potential matches – right to add items to their favourites.
6. It was the first European fashion retailer to launch a shoppable Facebook page
In 2011, Facebook users were using the social network to chat with friends. At the same time brands were launching profile pages to converse with their customers.
Asos spotted a trend and muscled in on the social action to become the first European retailer to let customers shop the entire Asos product range via its Facebook page. The Asos shop even featured the same checkout and payment options as on the main Asos website.
7. It is never afraid to take a risk
Perhaps down to Robertson's entrepreneurial spirit more than anything, Asos has never ever been afraid to try something new whether that's through its Fashion Finder – which highlights the latest trends, including products from rival retailers – to launching Marketplace – where customers can sell their goods to each other.
The business has acted like a start-up more than any other fashion retailer.
Robertson told Retail Week in 2014 that he wasn't afraid of taking risks. "You have to be in this space because however quickly we got here, the thing that's going to kill us probably hasn't been born yet, so you've got to keep asking what's next."
8. It has swam against tough tides – and survived
Asos has taken a battering over the years. Over the crucial Christmas period in 2005, its Hemel Hempstead warehouse was damaged in the Buncefield oil depot explosion and a fire at its Barnsley warehouse in 2014 cost the retailer up to £30m.
It may have interrupted trading and been disastrous for trade, customers and shareholders alike, but the team battled through.
"When you can't pay salaries, when your back's against the wall and it's desperate every day, your warehouse blowing up is just another bump in the road," he told Retail Week.
"That's where the entrepreneurial spirit kicks in. You take a big personality from a blue-chip company and stick them in somewhere and, the first bump in the road, they're off. We are hardened to bumps in the road."