Brands are increasingly cutting out the retail middlemen and selling direct to the consumer. How can retailers survive this growing retail phenomenon?
Across the spectrum, from fashion to beauty to consumer electronics, brands are opting to reach consumers directly rather than relying on a third-party retailer.
The model is one of a number of seismic shifts affecting the industry as new technologies make it easier than ever for brands to talk to customers without the retail middleman.
As it grows in popularity, retailers will need to assess and navigate the changes wrought by DTC and ask how they can avoid being cut out of the equation.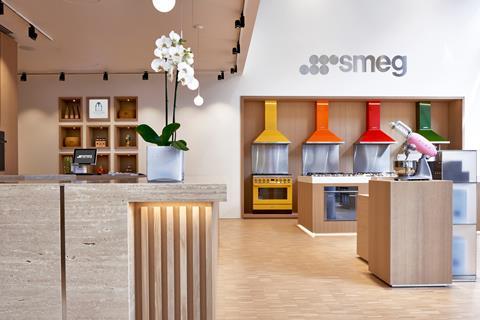 DTC retail is currently split into two distinct camps: the new brands that have only ever traded this way, such as mattress business Eve Sleep and cult beauty brand Glossier, and the incumbents like Adidas or Dyson.
"We have new brands jumping ahead because of ease of entry and we also have incumbents going direct to consumer and looking at if there's a different business model for them," explains KPMG UK head of consumer markets Linda Ellett.
Smeg is one incumbent brand that is exploring DTC. It operates two flagship stores, one in Milan and one in London (seen as its 'global flagship'), which both opened in 2017.
"Smeg has always been very much a manufacturer," says Smeg head of marketing John Davies. "In the purest sense of the word, we make appliances but the Smeg purchase is a lifestyle one. People get excited by our brand and we are often competing with a handbag or a holiday for a bonus.
"We carefully considered the brand presence and associated benefits of having a London flagship and really asked ourselves what we wanted to achieve. It came down to brand engagement and customers being able to touch the product."
The tactile nature of Smeg's aim has so far stopped it from launching a transactional website but, Davies says, it is seriously considering how it can replicate the feel of a flagship store online.
Digital reach
Digital and social channels have allowed lots of brands to reach consumers they would not otherwise have been able to.
"What the consumer is looking for has been true since the world began," Ellett continues. "It's all about value, convenience and experience. But what we've seen recently, through technology in particular, is that what defines that experience has started to change."
Put simply, experience is no longer about walking into a chain store and coming out with product. Instead, consumers are demanding more, whether that is the frictionless experience of shopping through an app or the experiential buzz of a retailer's flagship store.
"Your model might work from an economic point of view but what really matters is that consumers stick around"

Coye Nokes, OC&C Strategy Consultants
The advantages of DTC for brands are clear: margin enhancement – without the middleman, brands can either offer the consumer the best possible price for a product or can pocket the difference themselves – and control over brand equity.
The latter is a driving force of Nike's DTC push. The sportswear giant, which has 30,000 retail partners, plans to favour 40 "differentiated retailers" like Nordstrom and Foot Locker, which will have a special branded space in store as well as dedicated salespeople for Nike product.
Another advantage of DTC is it brings brands closer to the consumer and provides them with valuable customer data.
"One side of DTC is about the information that you can get on your consumers as a result," says Ellett. "We are seeing brands looking at how they can interact directly with consumers and what data they can get on buying habits."
However, Sam Perkins, group retail director at multi-brand retailer Shop Direct, believes the context around data that a multi-brand retailer brings can be just as useful to brands.
"Of course brands will capture that data if they go direct to the consumer, but what is equally helpful is to understand that data in wider context of other brands in any partnership model," he says.
Shop Direct shares data with brands – including their sales performance and their performance within their category – but doesn't share this information with other brands. Perkins points out that data is more valuable in context, and Shop Direct gives it that context.
The cost conundrum
There are other instances where retail can provide what DTC cannot. One is bearing the cost of acquiring new customers.
"If we look at the economics it is very difficult to stay as a purely DTC brand online," says OC&C Strategy Consultants partner Coye Nokes, who points out that many brands that started online, such as Bonobos and Everlane, are now opening stores.
"Fundamentally that is driven by customer acquisition – the cost of customer acquisition is very high in digital channels. Your route is either pay per click on Google or social media channels and the inflation of those costs has started to make a retail presence more economical, especially as traditional retailers pull out."
Smeg is acquiring customers and keeping its brand exciting via bricks and mortar. Its St James' showroom in London's Piccadilly is a great example of how to bring a brand to life in a physical space.
"We have strong brand pulling power and use our windows to drive footfall," says Davies. "We've taken retail and made it experiential. In store, we use a stand mixer to make dough and pop it into an oven to make pizza.
"We can do that in-store to stimulate the senses and we regularly run events. We have a full-blown cooking theatre with 48 seats."
The brands ruling DTC
Nike is one of the best examples of an incumbent brand nailing the DTC experience.
At the tail end of 2017, the sportswear giant, one of the best-known brands in the world, unveiled a dramatic change in strategy, focusing its attention on just 40 of its 30,000 retail partners.
The retailer wants to move away from "undifferentiated retail" and wants more control over its brand. The 40 retail partners will work much more closely with Nike and will have dedicated space and salespeople for the brand.
It plans to grow its DTC channel to $16bn in 2020 from $10.5bn in 2018 at the expense of its wholesale channel.
"Nike has signalled nothing less than a new model of retailing," OC&C Strategy Consultants partner Michael Jary wrote of the move. "The scale of the move highlights just how toxic the boring middle market of retail has become for any labels that care about their brand equity."
Nike has since followed this move with two major new store openings: one in New York and the other in LA.
Both centre around a connection with the consumer. LA's Melrose Avenue is the brand's first Live store, a new concept which is designed as a hub for members of its NikePlus programme.
The store has products and services that are based on the habits of local NikePlus members, the data of which Nike evaluated to determine that its local members were running obsessed and style conscious.
Designing for this very specific type of Nike Plus shopper is something that a retailer catering for a wider customer base would simply not be able to do.
Its six-floor store on New York's Fifth Avenue has been dubbed the Nike House of Innovation. Full of opportunities to personalise product, the shop is once again designed first and foremost around NikePlus members with those who download its app able to access a number of features such as booking appointments at its Expert Studio, where staff will be on hand to give tailored advice. Product that is 'trending in New York' is also on display.
At the other end of the scale lies newcomer Glossier. In 2010, Emily Weiss began to foster a community through her blog, IntoTheGloss, which is now a bona fide force in beauty publishing.
Four years later, IntoTheGloss launched the first Glossier products. Much like a streetwear brand, it maintains hype by dropping new 'must have' products every few months.
But the most interesting aspect of Glossier is that it has successfully turned the traditional retail model – manufacture or acquire a product and then sell it – on its head as it created the audience and then manufactured products for that captive audience. Its business model is a new chapter in the direct-to-consumer movement.
A millennial-pink flagship on Manhattan's Lafayette Street and a new sister brand, Glossier Play, have followed. Glossier gained unicorn status this month after being valued at more than a $1bn.
The strength of retail
A problematic aspect of DTC is the consumer's need for newness. Very few brands are able to sustain their appeal over multiple decades with hype often dying out faster than you can say FCUK.
While some brands seem able to spin buzz out of thin air, retailers are often able to maintain their appeal more effectively over a longer period of time than an individual brand can.
"I think retailers can be more flexible from that perspective," Nokes adds. "They have a natural better ability because they have a collection of brands that they can be flexible with.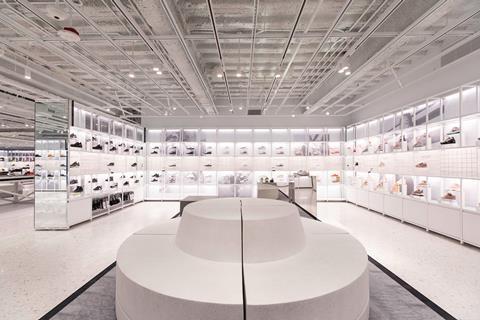 "We always question consumer fatigue – will consumers get tired of the Stitchfixes of the world? Your model might work from an economic point of view but what really matters is that consumers stick around."
Fulfilment is also a key area where retailers have strength.
Beauty is rife with DTC brands such as Glossier, Fenty Beauty, Kylie Cosmetics and Charlotte Tilbury winning new customers on Instagram.
However, online multi-brand beauty retailer Feelunique believes its strength in fulfilment sets it apart.
"I think fulfilment is one of most important things in terms of building loyalty with consumers," says Feelunique chief operating officer Jim Buckle. "Factors such as price are a consideration, but they are not the only consideration. Consumers come to us for other things with fulfilment a big consideration.
"Whenever we get negative feedback it is almost always about delivery."
Buckle goes on to explain this is because there are many variable factors that impact delivery and retailers work with third parties. Put simply, fulfilment is a hard equation to work out and one that brands will need to solve if they are to succeed.
"If you're going to tackle direct to consumer by addressing convenience you need to nail logistics and returns," says Ellett.
International fulfilment also adds extra cost and complexity. While getting consumers to buy product from a website halfway around the world has never been easier, there are still significant challenges in getting that product to the customer post purchase.
"As the shift to online continues then direct to consumer will make up a reasonable proportion of online business," says Buckle. "From time to time you will see particular brands that set themselves up like Glossier but that takes real ambition.
"We don't think that will be norm. Most brands will not have that infrastructure or will only want to do that in their home nation, so working with international retailers could be good option."
What does the future hold?
While it's tempting to view the DTC model as totally new and a product of online shopping, a form of DTC has been around for decades in certain sectors.
"Take fashion for example – lots of brands make their own product and sell it in their own shops," says Perkins.
Shop Direct sells many of the UK's biggest wholesale fashion brands such as Ted Baker, French Connection and Superdry, all of which have their own sizeable retail businesses.
Perkins continues: "If we take electricals, that development is a lot more recent with players such as Samsung and Apple. And furniture is one of those industries that has historically not been direct to consumer but is now starting to grow in that space."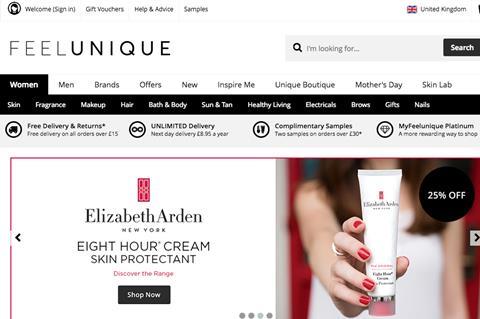 Buckle agrees. "A beauty counter in a bricks-and-mortar department store is a direct to consumer experience in some ways. If you shop in a beauty hall of a department store, then you are shopping directly with that brand."
That some categories have history in direct to consumer means that many brands have already found ways of reaching their customer directly and goes some way to explain the raft of DTC beauty and fashion brands that have sprung up in recent years.
Some categories are clearly stronger in DTC than others, but experts agree while some brands have the potential to be phenomenally successful, the model will not dominate any category in the future.
"I do not think that the future of the world is purely going to be one thing," says Nokes, who believes that repeat purchasing is a key area for DTC.
DTC arguably works best when retail fails to add value to the customer journey.
Nokes uses the example of Dollar Shave Club to show a repeat purchase where a retailer adds very little to the customer journey. Razor users are loyal to a particular brand and when they buy replacement blades they do not need to browse.
Shoppers are also likely to repurchase at regular intervals so sending refills on a regular basis and debiting an account monthly – something that is more suited to a direct-to-consumer brand than a multi-brand retailer – works well.
Ultimately, says Ellett, the shopping experience is not just about getting a product. "If a retailer just sees its role as providing washing powder or bread then they will struggle. They need to understand the other benefits they bring," she says
Retailers need to provide experience and convenience, as seen in Nike's stance on its retail partners. "Undifferentiated, mediocre retail won't survive," former Nike brand president Trevor Edwards said when he revealed its shift towards preferred retailers in 2017.
"Shopping is not about just ending up with product – people don't want to have to go to a hundred different companies directly"

Linda Ellett, KPMG
Nike is a heritage brand leading on DTC and where it leads, others are likely to follow. Retailers need to be aware that if they do not add value to a brand's consumer proposition – whether by fulfilment, brand curation or, for less established brands, customer acquisition – they are in danger of being bypassed.
But Ellett is quick to point out that while DTC is currently booming, this pace of growth will not continue.
"It will get to the point where whatever is suitable to be sold in that way will be," she says. "It will start to flatten and there will still be a place for the retailer. Shopping is not about just ending up with product – people don't want to have to go to a hundred different companies directly."
This type of curation and assortment is just one way that retailers can add value to a branded product's journey to the customer.
When strategising about how to win in the DTC environment, retailers need to reframe the conversation around what they can bring that DTC cannot.
This way, they can ensure they are what Nike describes as a "differentiated retailer", attractive to both consumers and brands.