Amazon has thrived in categories from entertainment to electricals, but can it become a leader in fashion?
It was in the garage of a rented three-bedroom house in Bellevue in Washington where 30-year-old Jeff Bezos started an online bookstore. It was 1994, and a long time – decades even – before retailers really understood and grasped the nature of the beast that is the internet.
But in that time, Bezos's Amazon had disrupted the retail market so severely that it was partly to blame for the closure of bookshops worldwide.
"In the UK Amazon has certainly snared a considerable number of clothing brands in recent years"
Since then, Amazon has become a significant electricals seller, swept up and shook up the entertainment industry even offering a successful TV and film streaming service, and now, one of its latest quests is to grab a larger bite of the UK's £50bn clothing market as it marches out more brands onto its platform and launches its own label.
But can Amazon jump from its position as the 22nd biggest UK fashion retailer by market share according to Kantar World panel data, to become as dominant and serious player as industry leader, Primark?
If its sheer level of investment and determination is anything to go by, it's possible.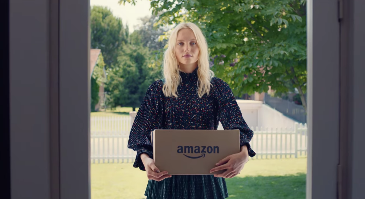 In 2015, Amazon set tongues wagging about its fashion ambitions when it opened its multi-million pound fashion photography studio in Shoreditch, London.
At the time, its then vice president of Amazon Fashion EU Sergio Bucher – now chief executive of Debenhams – said: "Our aim is to make Amazon the best place to buy fashion online."
Two years ago it stocked 100 brands, including Levi's and Calvin Klein. Since then Amazon's fashion stable has swelled, with more prominent players such as New Look, French Connection and Boohoo coming on board.
In fact, Amazon Europe added 350 new fashioon brands to its site in the last quarter of 2016 alone.
Amazon declined to provide further stats on its UK performance, but in February it revealed that more than 60 million fashion items were sold across its European division in the last quarter of 2016.
"Fashion is one of Amazon's fastest growing categories, and we are still only a handful of years into a very long-term investment," said Susan Saideman, vice president of Amazon Fashion Europe at the time.
Making waves?
Across the pond, Amazon is predicted to become the US's biggest clothing retailer next year with an estimated $28bn in sales, according to analysts at Cowen & Co.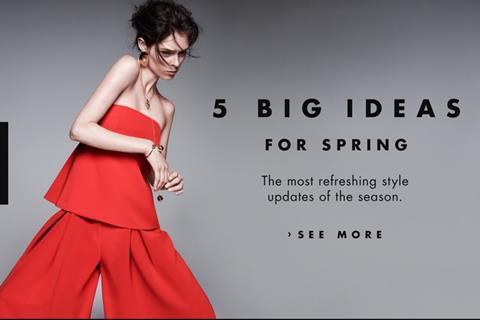 In the UK Amazon has certainly snared a considerable number of clothing brands in recent years.
Young fashion sister brands Little Mistress and Paper Dolls started selling on the website in 2014.
"It started very small, wide in selection and shallow in quantity. It's now a much bigger business that's bought in depth with a bigger focus on what their core customer demands," says Mark Ashton, chief executive of parent company Little Mistress Group.
"While scores of value and mid-range brands have got on board, there's a notable absence of designer brands"
"Amazon offers many things – not only sales in countries where bricks-and-mortar sales would never have previously been an option, but also millions of customers and a very loyal group of shoppers."
On the other hand, the chief executive of one menswear retailer says candidly that Amazon is not that big a channel for the company. "We don't do a lot on Amazon. It's not big for us," he admits.
A deterrent to designers
But while scores of value and mid-range brands have got on board, there's a notable absence of designer brands.
Can it become a destination for premium and luxury labels?
Luxury goods group LVMH has said there was "no way" it would sell on Amazon. "We believe the business of Amazon does not fit with LVMH, and it does not fit with our brands," said LVMH chief financial officer Jean-Jacques Guiony late last year.
Others are mulling the opportunity, though. "In terms of priority, it's not up there," says Meg Lustman, chief executive of Hobbs.
"Amazon internationally has more resonance as it's becoming big in the States and Germany, and we would probably consider moving into those markets first. But for us, there's so many other opportunities [we're exploring]."
Still, Kantar Retail senior retail analyst Anusha Couttigane believes that Amazon has the potential to become well stocked with the crème de la crème of designer brands.
She emphasises its high-end technology and distribution network that leaves other retailers lagging behind as attractive benefits in luring premium labels.
"It's useful for them to have this fully-fledged good investment. Amazon has studios and covers fulfilment, marketing and SEO. And it can help establish a strong online presence in whatever territory," she says.
Own-brand push
But Amazon has its own tricks up its sleeve when it comes to dominating the fashion industry.
Not content with running a multi-brand website, Amazon has hired key industry players including former Marks & Spencer womenswear boss Frances Russell who joined as vice president of clothing for Amazon Fashion EU last year and ex-Debenhams womenswear design director Karen Peacock to help tackle its next big UK move – its own-label fashion brands – which reportedly could be available on its site this year.
It would follow hot on heels of its roll-out of seven private labels in the US last year, which included contemporary women's clothing brand Lark & Ro, which has price points ranging from $30 to $120, women's workwear apparel and accessories label Society New York and men's accessories brand Franklin Tailored.
"These private brands seem to be filling a different need entirely, and mainly providing a broader range of more moderately priced apparel to shoppers," says Tiffany Hogan, senior analyst of US apparel at Kantar Retail.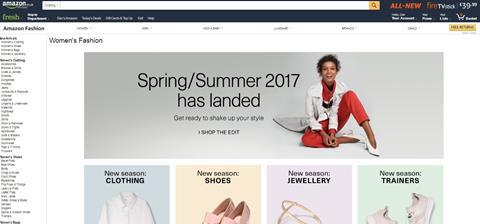 "This is partly a traditional private label margin opportunity, and partly a strategy for Amazon to fill more needs for shoppers at a lower price, and gain additional share of wallet from Prime members."
"As for the future, there's no reason Amazon can't emerge as one of the biggest players in the market"
Sofie Willmott, senior analyst of retail at GlobalData, believes Amazon's strong reputation in the world of online shopping and existing broad customer base means it is in a solid position to launch an own label fashion offer.
"Personalisation would be the most efficient way for Amazon to harness the huge amount of data they have access to whilst reaching their broad customer base. By using the tools they already have in place, they will be one step ahead of clothing retailers," she says.
Will it leave established brands quaking in their shoes? Ashton, for one, doesn't see the pursuit of their own label as a threat to his business.
"I think it would be aimed at the high volume market so it could hurt the supermarkets, Next and Marks & Spencer more, not brands," he says.
More investment needed
While Amazon might be a market leader when it comes to technology and delivery, Willmott says the retailer needs to invest more heavily if it's to be more of a serious contender in the online fashion space.
She says: "There are still major enhancements that need to be made, including more product details and additional, styled images where there are currently only two per item compared to four or five on most fashion websites."
She also believes Amazon needs to supply inspirational feature content to provide a rich experience to support the products it's selling.
But will fashion lovers choose Amazon over say, Farfetch or Net-a-Porter?
"For products where the experience is a key part of the purchase – even online, for example the boxes you get when you order on Mr Porter, it might require Amazon to change its approach slightly," says Petah Marian, senior editor at trend forecaster WGSN. "But as they've shown with the opening of Amazon Go, they're not tied to only one way of doing business."
As for the future, there's no reason Amazon can't emerge as one of the biggest players in the market.
"It has a really strong experienced team, a great network with strong fulfilment capabilities, a huge studio and warehouses, a strong customer base and it's Prime offer," says Couttigane. "It has most of the ingredients for success."