US fashion retailer American Apparel is axing stores and jobs as part of a $30m (£19.4m) cost-cutting initiative.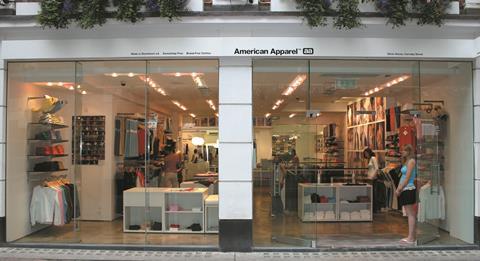 The Los Angeles-based retailer, which has 239 stores in 20 countries, has launched an 18-month strategic review of its business after it said it is running out of cash and that it may not be able to raise anymore.
The retailer said: "There can be no guarantee that the company will have sufficient financing commitment to meet funding requirements for the next 12 months without raising additional capital, and there can be no guarantee that it will be able to raise such additional capital."
American Apparel has not released details of the closures. Over the next 18 months, it will focus on shutting underperforming locations as well as seeking to reduce its footprint in "unprofitable and over-saturated markets".
The retailer has 20 shops in the UK.
New appointments
Its 10,000-strong workforce will be cut to reflect the smaller store portfolio but, again, the business has not outlined details of how many or what type of roles will be affected by the changes.
The retailer has appointed US retail veteran Christine Olcu as general manger of global retail and Brad Gebhard as president of wholesale to support the repositioning.
Olcu, who has held senior roles at retailers including Mexx and Club Monaco, will work with country managers to increase sales.
Gebhard, who has been working as a consultant for the business for four months, will be tasked with boosting its imprintable and business-to-business sales, as well as overseeing Oak, a New York-based speciality retailer that American Apparel acquired in 2013.
The company is also seeking to address other "legacy issues" such as strengthening its creative marketing and improving its supply chain and expense management.
Product lines to be revamped
Alongside the review, the retailer has also outlined plans to revamp its product lines. It aims to unveil an autumn line focused on "advanced basics and key items" for both men and women.
American Apparel chief executive Paula Schneider, who took over the role in January, said: "We are committed to turning this company around. These announcements are necessary steps to help American Apparel adapt to headwinds in the retail industry, reserve jobs for the overwhelming majority of our employees and return the business to long-term profitability.
"Our primary focus is on improving processes and product mix that have led to steep losses over the past five years."
Meanwhile, the company remains embroiled in "approximately 20 lawsuits and administrative actions" launched by the business's founder Dov Charney. The retailer's former chief executive left last December after a six-month suspension over allegations of sexual misconduct.
American Apparel said the cases against it were "meritless" and that it will "vigorously defend such actions".