All Saints has put British fashion firmly on the global map after it racked up sales of nearly $1m (£680,000) in its first week of trading on New York's Broadway.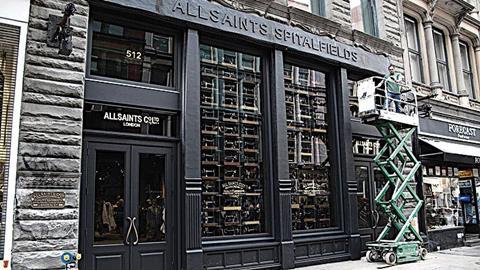 The retailer, which opened its 14,000 sq ft New York flagship late last month, is understood to have smashed its sales targets in the first two weeks of trading at 512 Broadway, despite following the typical All Saints strategy of keeping openings under the radar and employing no marketing activity.
Sources said that a good benchmark performance from 14,000 sq ft trading space on Broadway would be $500,000 (£340,000), with the average turnover target around $300,000 (£204,000).
All Saints is only the second British fashion retailer to take the bold decision to open on Broadway.
Sir Philip Green opened his first international Topshop store in the same street last year with a huge fanfare led by supermodel Kate Moss, planting the British flag firmly in the US city.
All Saints is just a few hundred yards away from Topshop on Broadway, but is thought to have beaten Green's Topshop New York sales figures last week.
All Saints chief executive Stephen Craig declined to comment specifically on New York sales but said: "It's our flagship in the capital of our planet. Although it's still early days, the consumer reaction has been tremendous, with world-leading sales densities and we are trading well ahead of expectations."
He added: "[Broadway] is the World Cup of fashion and we're confident of the months and years ahead. This was achieved with no marketing. It's a case of 'turn the key in the door' and let the consumer discover our brand."
The New York opening marks All Saints' fourth shop in the US, where it also has stores in Los Angeles, Miami and Boston. Craig said all of its US stores were trading ahead of plan.
Separately, Craig said that like-for-like sales were 36% ahead for the year to date across the whole business.
All Saints saw EBITDA double to £23.6m for the year ended January 31. Turnover rose 46% to £132.9m.