Alibaba's Singles' Day – now dubbed 11.11.Global Shopping Festival – is set to expand into international territories for the first time this year.
The online retail giant founded by Jack Ma plans to use the celebrations around the event and its catalogue of data to target shoppers in Hong Kong and Taiwan.
Next year, Alibaba plans to target Southeast Asia too.
The sales-shopping frenzy, which is poised to lure millions of Chinese buyers, commences on Friday morning.
American singer Katy Perry has been lined up to perform at the countdown gala in Shenzhen, near Hong Kong, on Thursday.
The biggest Singles' Day yet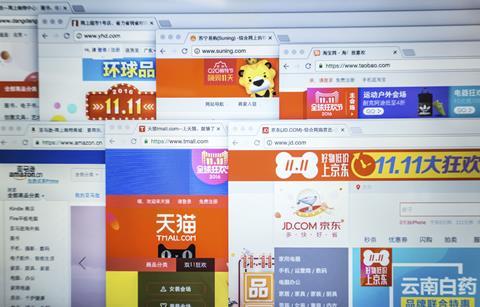 Singles' Day began seven years ago and involved only 27 merchants, but since then the event has ballooned.
Last year Singles' Day raked in $14.3bn in sales, more than the combined online sales over the five-day period covering Thanksgiving, Black Friday and Cyber Monday in the US – $11.1bn.
According to global delivery firm Fastline International, Singles' Day sales will soar by 50% this year – rocketing to $21.45bn and eclipsing Black Friday.
"Such is the growth in China's home shopping market," said Fastline head of consumer research David Jinks.
"Long gone are the days when Singles' Day was only celebrated by single male students at Nanjing University. Today it is the biggest sales day on the planet."
While the event was not originally invented by Alibaba, the retailer has made it a fixture of the retail calendar.
Based on an anti-Valentine's concept, Singles' Day launches on November 11 (11.11) because of its four single digits. It was historically a shopping day for singles, but is popular now with bachelors and couples alike.
Singles' Day and other similar events such as 8.8 have driven the growth of Alibaba, which reported a 55% sales increase in its third-quarter results last month.