N Brown will launch an overhauled ecommerce platform in November that will give it a single view of customers across all channels and brands.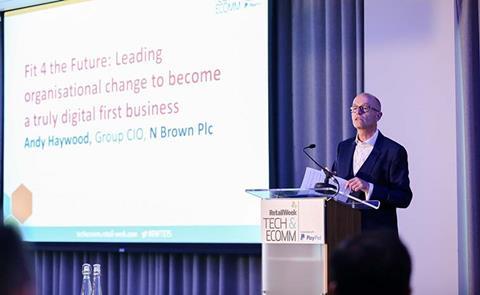 Speaking at Retail Week's Tech & Ecomm conference this afternoon, N Brown chief information officer Andy Haywood revealed the journey the business had taken to deliver the platform, adding that the retailer would become a "new business fuelled by the customer".
"When I first started the programme, a single view of the customer wasn't in the remit," Haywood told the audience.
"As we got going, we spotted a brilliant opportunity to get one view of the customer at no extra cost or extra time. We pitched the idea to the N Brown board. We had a vision, a plan – if a great idea comes along and you can accommodate it within the timeframe, then why wouldn't you do it? We did it almost by accident."
Haywood spoke in-depth about changing the direction of an existing tech programme when he joined the business.
"When I joined N Brown 13 months ago, [a plan] with good intentions was in place but there were signs of structural problems, the odds were stacked against the problem faced. It was painstaking work getting it right and producing a plan we could believe in.
"I did an eight-week strategic review without the need for expensive consultants. Within two months it was complete. It was clear [that the previous programme] was trying to do too much change and was beginning to fail. It was too ambitious in terms of scope, the scale was complex…it had the right destination but the wrong journey.
"I turned the tech-led programme on its head. The original programme was four years, I introduced a more focused two-year shorter programme."
Haywood added that his team completed the overhaul of the finance reporting system both under budget and on time last month.