Marks & Spencer has lost clothing market share as its resists the temptation to discount items, latest industry data shows.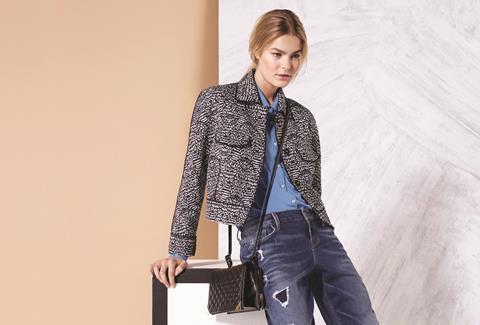 M&S apparel share down 0.6 percentage points
Fashion market grew by 3.3% over 24-week period
Sports shops and discounters gained most market share
Broker Bernstein cited Kantar figures showing that Marks & Spencer's overall apparel share was down 0.6 percentage points year on year to 9.9% in the 24 weeks to May 10.
It fell by the same proportion compared with the previous 24-week period.
In the key womenswear category M&S's share fell from 11.2% to 10.6% year on year, while menswear dropped from 11.1% to 10.5%.
Marks & Spencer recently celebrated a return to like-for-like growth at its core general merchandise division with a 0.7% increase in the fourth quarter of its last financial year.
The retailer's latest collections, overseen by style director Belinda Earl, have proved popular with the fashion press and the retailer has been determined to avoid discounting.
Fashion market growth
Bernstein analyst Jamie Merriman observed: "At M&S it will be challenging to reverse trends in market share losses, and sustainably grow general merchandise like-for-likes.
"Management's stated objective of gross margin expansion is restricting markdowns and hence volume of sales and top-line growth."
The Kantar data showed that the fashion market grew by 3.3% over the latest 24-week period, above the five-year average of 1.9%.
Although volume growth was 3.5%, there was a year-on-year price decline of 0.3%.
Bernstein noted: "Year on year, sports shops and discounters gained the most market share, followed by internet pure-plays, while general stores lost the most.
Marks & Spencer does not comment on analysts' notes. However, at its prelims in May it pointed out that it saw a "significant" opportunity for gross margin growth but "modest" sales growth in general merchandise. Initiatives under way include more newness in fashion collections.
Marks & Spencer will update on first-quarter trading on July 7, the same day it holds its AGM.