Join Retail Week in celebrating excellence and innovation in customer-centric retailing, submit your entry before February 12.

Following the huge success of the inaugural Retail Week Customer Experience Awards this year, Retail Week are delighted to announce the launch of the 2016 awards, celebrating those retailers winning the battle for customer loyalty.
The popularity of our launch shows how much importance world-class retailers place on perfecting the entire shopper journey, from product discovery to product delivery, in store and online.
In a world in which we can shop anywhere, anyhow and any time, only the very best retailers are truly meeting their customers' expectations with their innate understanding of shopper behaviour.
The modern retail customer continues to drive the retail agenda with increasing demands for a faultless, seamless and convenient shopping experience. Retailers need to build emotional engagement with shoppers to attract new customers and retain existing ones. The creation of a distinctive and dynamic customer experience across all channels is more critical than ever.
Join Retail Week in celebrating your excellence and innovation in customer-centric retailing. With 13 categories from in-store and digital experience to customer insight, social media, and retail theatre, we will shine a spotlight on brands leading the way in one of the most competitive areas of retail, and showcase those who continue to make the UK one of the very best globally renowned retail markets.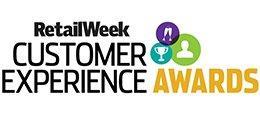 Enter before February 12
Start your entry now at ceawards.retail-week.com.
For help with your entry, please contact our dedicated account manager:
Crystal Mahey-Morgan, Crystal.Mahey-Morgan@emap.com (+44 (0) 203 033 2657)