Tesco needs to "take the lead in reshaping the industry" in a multichannel age, chief executive Philip Clarke said at Retail Week Live today.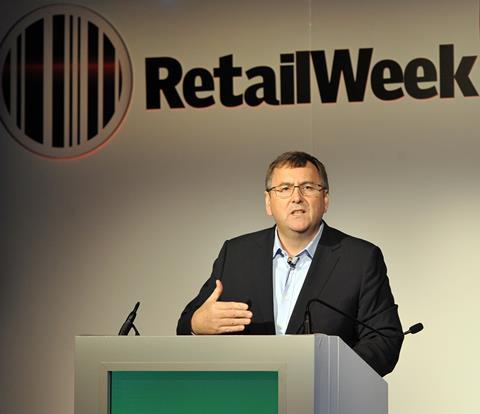 He said Tesco had unique strengths that had made it the leader in the "first curve" of retailing, the bricks-and-mortar era.
He said: "We have to take the lead in reshaping the industry again – in the second curve, bricks-and-clicks environment. What is helpful to us is that you can't lead in the second curve if you don't have the building blocks from the first curve – customer insight, a leading online presence, the best brands and store locations, and great colleagues."
Clarke added Tesco has some work to do to rebuild trust among consumers. "I'm determined to provoke a reappraisal of the business and you can't do that without strong foundations."
The whole retail industry has an image problem, he added. "We as businesses have to work harder to demonstrate to our customers how we use scale to the good of communities. Retail has an image problem."
Fighting the discounters
Clarke said that Tesco's response to the rise of the discounters was about building loyalty and a strong retail experience, as well as improving prices. "This is not about market share in the short or medium term. The industry is going through the most profound change. We've got to create innovate and differentiate."
Clarke said technology leaders must now be a core part of a retailer's response to the changes it faces, mentioning IT leaders including multichannel boss Robin Terrell and CIO Mike McNamara. "People with industry-leading digital skills need to be at the heart of the business, not sat in the corner marked online.
"There has been a dramatic change in what a forward-thinking retail business does. That requires new skills – who would have thought five years ago that Tesco would have an app development centre in Clerkenwell."
'Being genuinely multichannel is a goal. A lot of retailers talk it without making genuine change to their businesses'

Philip Clarke, Tesco
He added there is a lot of work to go on creating the perfect multichannel offer. "Being genuinely multichannel is a goal. A lot of retailers talk it without making genuine change to their businesses. To reach the second curve requires more than just token gestures."
He added few retailers can claim to be fully multichannel just yet. "To me, success is when multichannel is a word we don't use any more and it is simply how we behave. But I don't think any retailer can claim to be genuinely multichannel yet – we all have a journey to go on. What varies is the stage we're at."
Clarke also commented on the troubles that rival The Co-operative is facing. The Tesco boss - who is paid around a third of the £3.66m that Euan Sutherland, the group chief excutive who quit yesterday, was aking for - said it was ""terribly sad to see an institution in the way it's in".
Subscribe for full coverage
If you're enjoying our coverage of Retail Week Live subscribe for full access.

To subscribe with a 10% discount visit subscribe.retail-week.com/RWK-SBNI