Li & Fung boss Rick Darling highlights focus on safety issues throughout the supply chain since Rana Plaza disaster.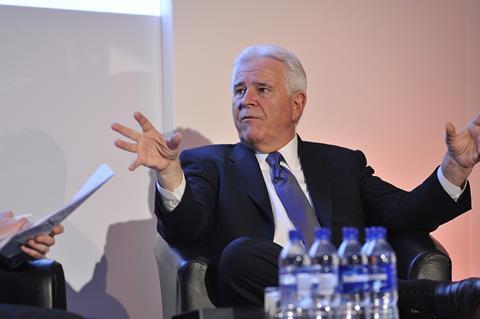 Eighteen months of 'profound' change is how Rick Darling, executive director, government and public affairs at Li & Fung, describes how retailers and manufacturers have addressed supply chain safety issues since the Rana Plaza disaster in November 2012.
Speaking with Chris Brook-Carter at the Retail Week Live conference, Darling said Rana Plaza had been "a complete game changer". The action that has been taken change has been significant, he said. "I have never seen the industry move together like the industry is moving on this issue."
As to the possible suggestion that having two possibly competing industry-led initiatives – namely the Accord for Fire and Building Safety in Bangladesh and the Alliance for Bangladesh Worker Safety – was problematic, Darling said that "on the ground the two groups are getting along very, very well with a real co-ordinated effort".
He alluded to practical mutual support such as information-sharing, and the harmonising inspection protocols. "The focus is on getting this done quickly. The guys involved are just saying 'let's just get the job done'."
Industry-led change
Earlier, Darling likened the changes seen since the Rana Plaza disaster to the change seen in how clothing companies addressed ethical issues in supply chains in the 1990s. However, he pointed out that in spite of the initial public shock at the disaster, the subsequent activity had been industry-led rather than prompted by continuous consumer pressure as had been the case in the 1990s.
After the initial horror, he said public interest in the necessary reforms required in Bangladesh had waned "but I can tell you it caught the passion of retailers", he said.
Darling was also at pains to point out that the process manufacturers are engaged in in Bangladesh need not add to the cost base. "Factories can be safe without being more expensive," he said.
However, the inflationary pressures created by rising costs in China means that retailers and clothing brands are looking to expand or move production to other emerging economies, where similar issues to those faced in Bangladesh will exist.
"I think Bangladesh is the start," Darling said. While there was urgency to address the situation in Bangladesh, Darling told the audience that "these issues exist in other emerging market countries and in new countries that will be coming on board." He said the learnings from Bangladesh were already being applied in countries such as Burma, Vietnam and Cambodia, albeit at this stage in a less formal way.
TIme of significant change
In a later panel session, three ethical trade specialists also alluded to the significant change that has come about in the aftermath of the disasters in Bangladesh.
Julia Kilbourne, apparel and textiles category leader at the Ethical Trading Initiative (ETI), said that Rana Plaza had represented "a watershed moment", adding that it "really has awakened us – the corporate sector and consumers – that we need to do something and need to work collaboratively".
Kilbourne added that ETI membership had grown over the past 18 months, particularly in the apparel/textiles sector. However, while the collective effort had gathered pace, she warned that some brands were still "burying their heads in the sand" and "riding on the coat tails" of more active companies.
In spite of the observation of Rick Darling and others that consumer concern in the wake of Rana Plaza had declined relatively quickly, Andy York ethical trading manager for N Brown, said his company's customers expected it to act.
With regard to ethical supply chain issues, Giles Bolton, ethical trading director at Tesco, added that consumers wanted to be assured that they are "not in any way complicit in exploitation".
However, significantly Bolton also said that while reputational risk management is one clear reason for having a strong ethical trading programme, this also represents a "proxy for identifying the best long-term relationships and good long-term partners, and that means that the programme will more than pay for itself commercially".