To remain relevant and avoid the pitfalls of many other retailers in the toy market, Valitor Best Retailer Under £250m The Entertainer has not only embraced its core values, it has used them to help develop the sector
The Entertainer's loyalty to its mission to 'fill every childhood with wonder' has enabled it to thrive, while other toy retailers have had unhappy endings.
The retailer delivered a consecutive ninth year of top-line growth where others such as Toys R Us hit the wall.
Where traditional toy shops face a steady stream of new competitors alongside established rivals ranging from Argos to department stores and pound shops, The Entertainer has been consistently impressive.
A family affair
The family-run retailer – founded by husband and wife team Gary and Catherine Grant – holds an impressive market share and continues to both innovate after 37 years in the business while also sticking to its core founding principles that enabled it to succeed in the first place.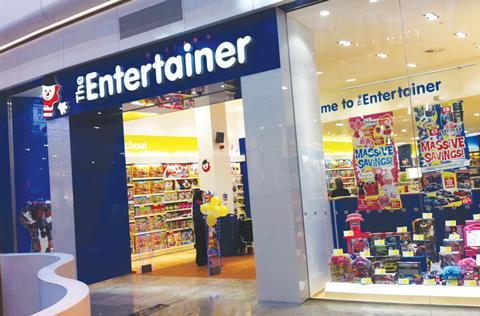 Those principles include only trading six days a week – a rare thing in modern retail that The Entertainer has stuck to even when Christmas Eve fell on a Sunday – so that staff can spend one day a week with families and friends.
At the same time as keeping to its own traditions, the Grant family has not shied away from modernising the business through immersive experiences using technology. The Entertainer has also seized opportunities for international expansion, and has plans to trade in more overseas locations.
One of the judges said: "The Entertainer has never lost sight of what the business is and where it's going. The retailer has done it year in, year out. In terms of operating in what's been a tough market, it has been on its game and is really clear about what it wants to do.
"It is winning in the market. The retailer really is one for others to look at, and it's got its own culture."
Experiential shopping
While building its ecommerce offer with the launch of a new website, The Entertainer has continued to make its stores wonderlands for children and parents.
Last year the retailer opened the doors to a refurbished flagship store in London's Westfield in White City, incorporating features such as its 'Launch Pad' tech tables, interactive floor projections, augmented reality mirrors and animated window screens. The relaunch has delivered results, as like-for-like sales rose due to the flagship branch.
There has been a big emphasis on m-commerce, and the retailer has brought in a team of influencers known as 'The Entertainer Squad', to bring its online platform to life with social media-oriented content such as unboxings and demonstrating new products.
Toys on a global scale
Toy retailing has changed a lot since 1981 when The Entertainer had just one branch in Buckinghamshire, but the retailer has changed a fair amount too.
It now has 150 shops, including over 20 overseas in Europe and Asia, and while it has grown the retailer has garnered accolades such as joining The Sunday Times' Best Employers To Work For ranking, and has stuck to principles such as tithing profits to good causes.
The judges agreed that The Entertainer's success was a textbook example of how to stay ahead through changing times and changing competition.
"There's been a lot of new entrants in the toy market," said one judge. "Some had a really bad Christmas in toys. There were reasons why the people who did well managed that – it wasn't just a question of mopping up market share.
"Considering how tough the toy market is, The Entertainer seems to be thriving and growing, and that says a lot about its model."
After building market share, increasing pre-tax profits and seeking out new international pastures to complement its successful domestic business, The Entertainer stands out as a worthy winner in this hard-fought category.