Large corporations are often accused of struggling to connect with their target consumer. Tesco took customer feedback on board to deliver a heartfelt and meaningful ad campaign that landed and won them The Persado Marketing or Advertising Campaign Award
People love to cook meals for the friends and family they love – a simple insight that has proved incredibly powerful for Tesco.
However, just a few years ago the UK's leading grocer was facing significant challenges. It had lost the trust of consumers who feared the company had become too big to care about the quality of its food.
The 2017 Tesco 'Food Love Stories' campaign was designed to tackle such misconceptions while encouraging consumers back by reminding them about Tesco's passion for food through effective storytelling and by emphasising the relationship people have with mealtimes.
Tesco's first food campaign for three years, Food Love Stories was anchored by two primary insights – that on average, people only know five recipes and that the biggest source of mealtime inspiration is through family and friends.
Change of tactics
The retailer's Food Love Stories campaign helped create £679m in new revenue, and increased media-driven sales by 49% compared to previous campaigns.
While food quality had been Tesco's weakest brand attribute at the beginning of the campaign, scores have since improved significantly, and much of this improvement is directly due to its latest marketing campaign.
The judges admired the campaign's goals and obvious success. "Tesco was very clear about what it wanted to achieve," said one judge. "The shopper was kept at the very heart of it. It had a lovely story and was targeted in the right way."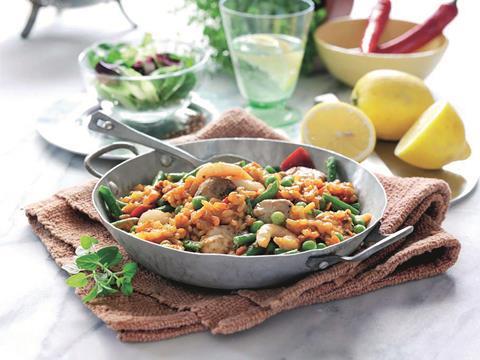 Achieving that level of success meant Tesco had to think beyond the traditional advertising norms that are often used by food retailers, such as provenance claims. Instead, Tesco created a series of personal and immersive food stories, each one featuring a home-cooked recipe and a story about what makes it special.
National exposure was driven through television, radio and out-of-home advertising. That was supported in store and by owned media to fully bring the stories to life with initiatives such as recipe cards, emails, through the Tesco magazine and on the retailer's website. The stories used in the campaign were segmented by meal type, occasion, family makeup and convenience to create specific relevance.
The campaign has included stories for the time-poor, for those trying to eat healthier and for vegetarian and vegan consumers. These specific stories were delivered to audiences in personal and relevant media formats.
But it did not end there. The stories were then allowed to unfold and evolve and, when in demand, be retold.
Personalised marketing
Content is now shifting from traditional display advertising such as billboards and television advertisements to video. Out-of-home advertising has also been given more weight in regions with weaker consumer engagement.
The flexibility of the campaign means that the stories are still evolving, and can adapt depending on the time of year, national holiday or what products are in season.
The fundamental message of quality is now being extended into other areas of the business, including home delivery.
"I just thought it was a really brilliant campaign," concluded one judge. "From getting people to cook fresh produce to families coming together, Food Love Stories elevated product and Tesco."

Persado
Persado is reinventing digital marketing creative by applying mathematical certainty to words, the foundational DNA of marketing.
By unlocking the power of words, companies win every digital marketing moment, experiencing dramatic new levels of brand engagement and revenue performance.