The journey from online grocer to global technology provider has not been plain sailing for Cognizant Digital Pioneer Ocado Technology. But the disruptor continues to be an innovative industry titan
The last year has been a "transformational period" for Ocado, says chief executive Tim Steiner. While Ocado is often seen as a food etailer, it is far more than that – more an innovative tech specialist that also sells groceries.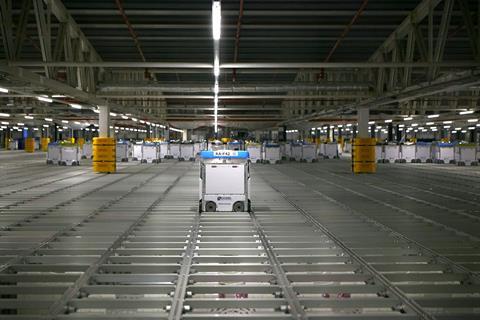 Ocado's expertise spans a raft of areas – from technology design to logistics, artificial intelligence and robotics – and increasingly, as a partner and service provider for other retailers all over the world.
It has become the archetypal ecommerce disruptor.
Ocado's entry was, as one judge observed, "head and shoulders" above the competition because of the many facets of its business.
While most consumers know Ocado as an online grocer with nearly 50,000 products on its virtual shelves and a 95% success rate at delivering within a chosen one-hour slot, it has also achieved much more as a business-to-business (B2B) operation.
Connecting retailers
Through the Ocado Smart Platform, the company has made a name for itself as a partner to retailers and provider of logistics, ecommerce and fulfilment technology to brands internationally. In its biggest deal of 2018, Ocado connected with US grocery giant Kroger to provide 20 automated warehouses across America.
The Kroger tie-up was a landmark moment for Ocado. Kroger is the second-biggest food retailer in the US, boasting annual sales of $122bn (£93.2bn), and the deal could help reshape the grocery landscape in the US.
Going down the B2B path is likely to pay dividends for Ocado, and for the judges it was Ocado's remarkable achievement on the world stage that really showed its pioneering strengths.
One judge said: "Ocado has seen off sceptics. Its use of technology is especially impressive – it's made the retailer a world-class operator. It has got big deals over the line, and it has become a global technology platform."
At the heart of Ocado's innovation is its modern warehousing operations. The company had four customer fulfilment centres up-and-running in the UK, until, sadly, a fire at its most recently opened facility in Andover in February destroyed the building. It was undoubtedly a serious blow for Ocado, which was however, able to redirect operations through its other fulfilment centres.
"The retailer is going from strength to strength. In the retail space, it has become synonymous with technology"

Judge
The warehouse was one of the most advanced of its kind anywhere in the UK, deploying a grid system manned by hundreds of robots zipping along at 4m per second, passing within 5mm of each other picking goods at a gap of 5mm to collect orders at an impressive speed.
The blaze is a major setback, but with big global deals done and as those retailers who have struck partnerships with Ocado confident in its technology, a setback is all that it is likely to be.
As one of the judges pointed out, Ocado is a work in progress, and a long-term player with a clear goal in mind.
"It's something the company has been working on for the last two to three years," one judge said. "Ocado is leading the way in the strategic deployment of tech, and has revolutionised its business. The retailer is going from strength to strength. In the retail space, it has become synonymous with technology."
Being considered synonymous with technology in the digital era transforming retail is a good position to hold. Ocado originally set out to disrupt more than retail and ecommerce. It aims to take its smart technology platform to the world, to new sectors and industries well beyond its retail roots.
It will always be known as the company that took ecommerce technology to new heights – a true digital pioneer.


Cognizant
Cognizant is one of the world's leading professional services companies, transforming clients' business, operating and technology models for the digital era.
Its unique industry-based, consultative approach helps clients envision, build and run more innovative and efficient businesses.
Cognizant is ranked 195 on the Fortune 500 and consistently listed among the most admired companies in the world.