While etail giant Asos leads the way for fashion fulfilment solutions, 2018 saw the Infor Best Fashion Retailer take this to whole new level
When it comes to Asos, the same word comes up over and over again: relentless.
In a torrid year for many fashion businesses, Asos' relentless focus on its customers continues to put the pureplay right at the forefront of retailing.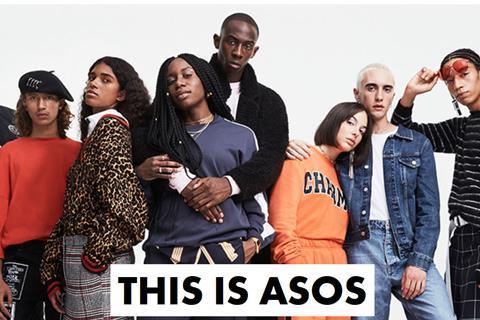 "It is a very tech-driven business that is truly customer centric," said one judge. "If you speak to anyone in the fashion world, Asos is truly admired."
Drawing more than 1 billion hits on its site in the first half of its current year, it's clear this is true. And with a global active customer base of 18 million as of July last year, Asos put in another stellar performance in 2017. Its results showed full-year revenues up 26% to £2.4bn.
Diverse delivery
The etailer has never wavered from its mission to offer customers the right product, at the right time, in the most convenient way. It has a range of 85,000 products on its site at any one time, with 5,000 added each week.
With a growing roster of new brands, own-label – such as Asos 4505 activewear – and exclusive collaborations, up to 60% of products on its site are now exclusive to it.
Leading the industry with its fulfilment solutions, 2018 launched 'Asos Instant' for same-day delivery in London, Leeds, Manchester, Birmingham and Berlin, and 'Try Before You Buy', teaming up with Swedish bank Klarna. Both sit alongside shopping innovations such as visual search tool Style Match and Enki on Facebook Messenger, the Asos fashion chatbot.
Its trailblazing innovation is supported by significant reinvestment in the operational aspects of the business. With total capex likely to hit between £230m and £250m in both 2018 and 2019, there are plans for significant investment in technology, transformation and infrastructure, as well as the customer proposition.
All of that is done with an eye on sustainability and high ethical standards – critically important to its core twentysomething consumers – through its 'Fashion With Integrity' programme.
Conscientious ideas
Asos has increased the rigour of its animal welfare policy and is shifting to using more sustainable materials, and has hosted events on modern slavery, ethical trading and migrant workers' rights across the world.
While the judges noted Asos' pre-Christmas profit warning when the business highlighted the severity of trading conditions, they also praised its agility and ability to bring innovation to market at lightning speed.
"Asos is an extraordinary company and it is still growing at an incredible rate each year.
"That is really hard for a company that big. It is doing that by innovating with new lines, new ideas and by being disruptive and disrupting itself."
Asos continues to be at the front of the fashion pack and, despite hitting turbulence, is likely to continue to be a leader.

Mark of excellence: Joules
Joules impressed with 18.8% year-on-year revenue growth, reflecting smart strategy and winning product. The premium lifestyle brand increased retail revenue last year across all of its channels – including wholesale and international – which delivered growth of 40.4%.
"Despite the tough market, it is still innovating, taking risks and growing in this market. That is no mean feat," said one judge.
Joules increased its active customer base by 23% to 1.15 million in 2018, and over the last year it has expanded its sofa collaboration with DFS from 10 stores to 40. Joules' adherence to distinctive British design, including product quality, means that it has grown consistently and delivered a great year.

Infor
Infor is a global leader in business cloud software products for companies in industry-specific markets. Infor builds complete industry suites in the cloud and efficiently deploys technology that puts the user experience first, leverages data science and integrates easily into existing systems.