Despite Jeff Bezos warning 'Amazon will fail' one day, shoppers have given it the Hitachi Capital Consumer Choice Award
Amazon has clinched the top spot again this year as the Consumer Choice Award winner.
The online retailer has continued to disrupt the industry over the last 12 months with tech innovations, new product categories and a burgeoning bricks-and-mortar presence.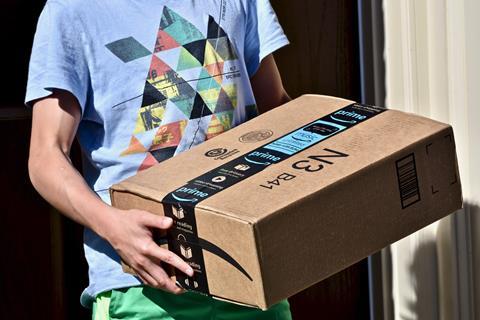 Amazon was the clear winner following a survey by Respondi of 2,000 people, according to market research industry standards.
Many of the reasons that put Amazon on the top spot in 2019 were the same that have made it a customer go-to since its launch.
Shoppers cited the online retailer's breadth of products, price competitiveness and convenient delivery options as the reason it was their top pick. However, a recent addition that stood out for shoppers was the Prime membership scheme.
It is an example of an innovation that has moved the goal posts of what a retailer should offer – think ecosystem rather than a traditional store experience – while offering genuine benefits for shoppers here and now.
In Amazon's annual letter to shareholders last April, founder Jeff Bezos unveiled that Prime membership had surpassed 100 million for the first time.
It is fitting then that Prime Day 2018 was the biggest to date, with Amazon reporting more than 100 million products were purchased.
Amazon makes constant innovation a necessity – helping to ensure it does not forget the reasons shoppers fell in love with it
The retailer's innovation was not restricted to its online ventures. Amazon opened its new 4-star format, stocked with its top-rated items, in New York last years and has begun to expand its checkout-free Go grocery format.
Speculation is rife that it will soon open the first Go store outside the US in London – the retailer dabbled with a bricks-and-mortar presence in the UK with an fashion pop-up in the capital in 2018.
The retailer also launched Prime Wardrobe in the UK last autumn, allowing shoppers to have up to eight products delivered free of charge and only pay for the items they decide to keep. An own-brand furniture line was also launched in the UK.
Amazon has launched a recruitment drive in the UK to further bolster innovations. The etailer opened a Manchester office last year and added 1,000 new tech roles, alongside 2,500 other permanent jobs across its various business divisions including research and development and operations.
The online retailer also launched a scheme for 1,000 new UK apprenticeships in February this year.
Bezos' bombshell
All of which makes Bezos' prediction that "Amazon will fail" one day all the more surprising.
The retail entrepreneur said last year: "I predict one day Amazon will fail. Amazon will go bankrupt. If you look at large companies, their lifespans tend to be 30-plus years, not 100-plus years."
It is that restless perspective that makes the online retailer a pace-setter for its rivals and a firm favourite among shoppers.
"If we start to focus on ourselves, instead of focusing on our customers, that will be the beginning of the end," said Bezos.
"We have to try and delay that day for as long as possible."
By viewing failure as an inevitability, Amazon makes constant innovation a necessity – helping to ensure it does not forget the reasons shoppers fell in love with it in the first place.
Amazon's relentless push for constant improvement and to cater for consumers in new ways has taken it from start-up to international giant.
As far as UK consumers are concerned, they clearly welcome the convenience and value for money they get from the etail goliath. RW

Hitachi Capital
Hitachi Capital Consumer Finance is the UK's leading retail point of sale credit provider.
It provides flexible credit solutions that work with your business, giving customers the freedom to purchase across any channel, quickly and easily.
Hitachi offers the widest range of products on the market. From interest-free and interest-bearing credit as well as options for retailers without FCA authorisation, Hitachi works with customers to turn browsers into buyers.