Tesco group chief executive Philip Clarke said he is "determined to provoke a reappraisal" of his business and has vowed that the grocery giant will emerge a truly multichannel leader.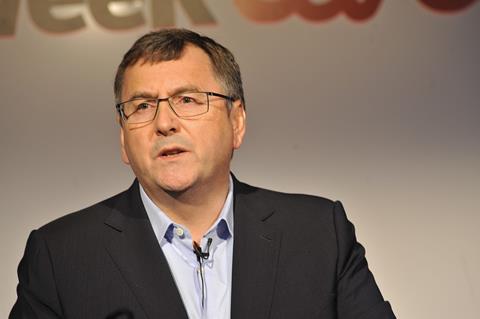 Speaking to Retail Week in an exclusive interview on the first day of Retail Week Live where he made the keynote address, Clarke said Tesco was a leader in the first curve – the bricks and mortar era – and now the grocer "has to take the lead in reshaping the industry again" with the second curve of the bricks and clicks era.
He said: "I was at Cockfosters yesterday to experience our click, commute and collect. I'm speaking to you on the 25th anniversary of the internet, and who would have thought 25 years ago that you would be able to pick up your groceries at a tube station."
"This is the multichannel chapter. When we look back, we will see that the company changed to reflect the new world order. It will be painful, but it's the right thing for our customers and investors."
Clarke said he believed The City and investors understand his strategy. "Analysts seem to have described exactly what we're trying to do. We're clear and we don't have much more to change beyond accelerating our strategy."
He said Tesco is strengthening the existing business, and accelerating the rate of improvements made online. "Every business is at different stages but the direction of travel is clear. There are seismic changes happening in our sector, and in other sectors such as newspapers, and each business needs to decide its strategy."
"There are seismic changes happening in our sector, and in other sectors such as newspapers, and each business needs to decide its strategy"

Philip Clarke, Tesco
Clarke said it is essential that each business has the skills for the new era. He said for Tesco it is important to have people experienced in the first curve and the second.
He likened Tesco's team to that of Liverpool – the football team Clarke supports – and said: "The manager of my football club Brendan Rodgers would say that he needs to strengthen the squad, but he's second or third and challenging for the top position and fans are daring to dream they are leaders in the premier league.
"We've got incredible strength – some of the team have been there 30 years and some a year – but we're always looking for new talent. Rodgers is thinking 'I have Sturridge, Suarez and Sterling, but I want more' and we're always looking for more."
Tesco revealed at its investor day last month that it would invest £200m in price and a further £200m in a FuelSave offer which went nationwide today. When asked whether that was enough to fight the discounters, Clarke said: "What we know is you have to differentiate, innovate and create. Look at Barnes & Noble and Nook and the challenges they are facing. It had to completely reinvent itself against Amazon."
He added: "Other retailers will not launch a current account, digital wallet, ebooks, 3,000 click and collect locations and have businesses such as Harris & Hoole, Giraffe – it's all about differentiation."
He said that while Tesco had acknowledged it needed to be sharper on price, it was part of the overall mix and not the only reason shoppers will shop with the grocer. "I'm not in the business for market share. When I called an end to the space race that obviously meant we would lose some market share but my job is to see Tesco through to its next period of growth."
Clarke said he is confident his strategy is the right course for Tesco and that while the rapid pace of change means it is difficult to see what shoppers might want in the future, he is setting the business up for the new era.
He said: "All our store overhauls will be completed in three years and the larger stores we will do in 2016 might be different to our first – in Watford – but we believe we have the right mix now of casual dining, F&F clothing, home and a focus on fresh food."
Clarke said that he does not want to buy any more businesses such as Giraffe. He said: "We have a stable of family dining and we don't need any more. What I need is for innovation and creativity to keep flowing from them. We're opening a craft bakery in south east London, it's being commissioned as we speak, and that's the sort of innovation we need."
Clarke, who has been with Tesco for 40 years and was part of the management team under former boss Sir Terry Leahy, said he had no regrets about the previous strategy that included a focus on opening big box stores, which it is now overhauling to compete in the changed world. "At that time, the Prime Minister and Chancellor said there would be no more booms and busts, just growth. But the world changed, and who could predict that. I only look back to learn, my job is to look forward."