As Autism Hour Week draws to a close, The Entertainer co-founder Catherine Grant reveals why the retailer is backing the initiative.
At The Entertainer, we are committed to making our stores an inviting, safe environment for all children and their families to enjoy.
Buying a toy should leave children with a dream and a positive memory – something the internet cannot possibly deliver.
There is so much talk about 'the demise of the high street', but this is simply not our experience.
Our stores are showing positive like-for-like sales, we are relocating and refitting 10 of our existing stores and opening a further 15 before the end of the year.
"Believing business should endeavour to be a force for good, we are encouraging other retailers to participate in Autism Hour"
Retail has never experienced such rapid evolution in people's buying habits and expectations. This retail landscape means we must continually reappraise and update our offer to the customer.
Thankfully, society is learning to embrace inclusivity. This means taking into account the different areas of difficulty for the families we hope to serve, hence our particular interest in creating a non-threatening environment for people with sensory difficulties.
After participating in Autism Hour 2017, we felt that we could run further days throughout the year to support our autistic customers.
We introduced a Quiet Hour each day of the February half term, when stores switched off their music, dimmed store lighting wherever possible and ceased noisy demos.
The response from our customers, both directly to staff and on our social media channels, was overwhelmingly positive. We realised the impact this had on our customers was so profound that we should introduce the initiative on a more regular basis.
As a result, Quiet Hour became a feature in our stores during the first hour of opening each Saturday and on each day of every school holiday period.
Creating calmer environments
As retailers who work hard for continued growth, we need to set ourselves apart. This means consistently striving to meet our customers' needs – always remembering our customers have a choice about where they spend their money.
In dialogue with the National Autistic Society, we began to understand that shopping with autism can be extremely stressful – and in many cases, distressing – with research telling us that 64% of autistic people say they avoid shopping altogether.
We strongly believe every child should be able to enjoy a trip to the toy shop, so after learning more about the difficulties of living with autism we began to look at what else we could do to create a calmer shopping environment for our autistic customers and their families.
Creating a welcoming environment for all families is about more than one shop being mindful of the needs of our customers. It's a community-wide thing. How can we all work together to create a high street or shopping centre that is a safe and secure place for all?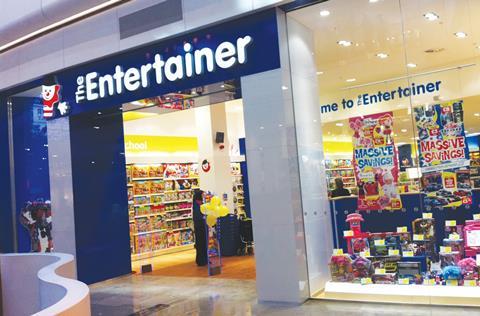 We discovered that whole families were missing out on visits to the toy shop because the environment was too overwhelming for autistic family members. We committed to do whatever was in our power to bring about change.
The introduction of Quiet Hour helped bring about change in the store environment. We are not experts in autism but we are keen to ensure our staff are given sufficient knowledge about the condition to effectively assist autistic shoppers, minimising any stressful situations and providing helpful information around toys and games that might be appropriate for the specific needs of our autistic customers.
So began our relationship with the Autistic Society in Jersey, a representative of which subsequently visited our store. The resulting sessions with our staff were so helpful in explaining the diverse challenges autistic people face in ordinary daily activities – and more importantly the difficulties our customers might experience in the store environment.
Following this, we started working with the National Autistic Society to look at how we could support Autism Hour 2018.
Believing business should endeavour to be a force for good, we saw an opportunity to pioneer the initiative, encouraging other retailers to participate in Autism Hour and to consider introducing this into their weekly cycle of retail. We have partnered with the National Autistic Society as the sponsor for this year's campaign.
Force for good
Last month, we invited the charity to attend our national store managers' and assistant managers' conferences. Through an enlightening presentation and thought-provoking video footage of a child's visit to a shopping centre, we saw the overwhelming nature of a modern day retail environment through the eyes and ears of an autistic person.
The sensory overload that happens in that fast paced, busy space, where a person is bombarded on every side by noise, flashing lights and relentless activity, can feel unsafe and unpredictable to autistic people.
In our commitment to create a welcoming and accessible shopping environment for autistic people and their families, we are working towards an 'Autism Friendly' award with the National Autistic Society. It is our hope that five of our stores will be awarded this status in 2019 and we will work towards our stores receiving it by 2020.
Businesses should be a force for good. We believe our stores should be a welcoming and safe space for all children and families. Difficulties and disability should never be a stumbling block to experiencing the magic of a visit to the toy shop.
Catherine Grant is co-founder of The Entertainer.