HMV has overtaken Tesco to reclaim second place in the physical entertainment market, while Amazon's share of the CD, DVD and games market shrunk.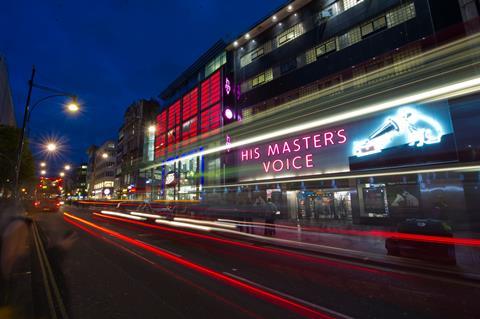 HMV grew its share of the physical entertainment market by 3.1 percentage points year-on-year in the 12 weeks to September 25, taking its market share to 15.4%.
Tesco's share of the market dropped 3.3pp to 12.7% during the period, as HMV stole CD, DVD and games sales from the grocers and attracted 41,000 new shoppers.
On music sales, the Hilco-owned specialist, which slumped into administration more than three years ago, overtook etail giant Amazon.
Meanwhile, according to the latest figures from Kantar Worldpanel, Amazon's share shrank by 0.8pp.
However, Amazon is still leading the march with a market share by retail spend of 20.4%.
Kantar Worldpanel strategic insight director Fiona Keenan said: "HMV's growth has been driven in large part by its success with several big music titles: two-thirds of all sales of the debut album from Christine and the Queens came via the retailer, and HMV also benefited from the ongoing success of Adele's 25.
"Amazon has seen a less positive performance in the latest quarter as 14% of its shoppers left the physical music market.
"It's likely we'll see this decline accelerate in the coming months as Amazon places greater focus on its digital offer."
Physical games market
Game remained the physical games market leader, increasing its share by 1 pp year-on-year, despite increasing competition from digital games.
Argos also grew its market share by 4.1pp, reaching 15%.
Keenan said: "Physical games are certainly having a tough time at the moment, but the advent of 4K gaming – including the PS4 Pro and Xbox One S – could give the sector a much-needed boost.
"Not only is this new generation of games likely to come at a higher price point, but the rise of virtual reality could attract new shoppers beyond the stereotypical young male gamer."