HMV has launched an online marketplace selling third-party products as it looks to hit back at arch-rival Amazon.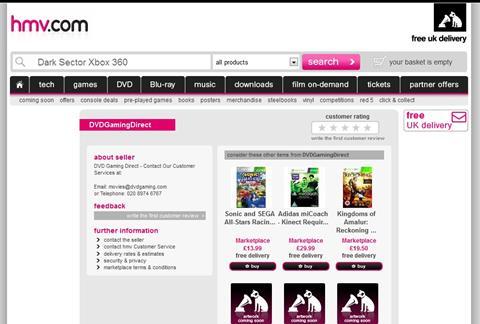 The entertainment retailer soft launched a trial of the service this month as it aims to make its website "the ultimate entertainment hub".
HMV said the marketplace allows it to sell products that complement its core offer. At present it has one seller, entertainment specialist DVD Gaming, and will have 10 before Christmas.
Amazon has sold third-party products for several years and created fierce competition for HMV. Tesco also launched a marketplace earlier this year.
The high street entertainment specialist is looking to broaden its offer in technology, music downloads and on-demand video under new chief executive Trevor Moore, who replaced former HMV boss Simon Fox in August.
An HMV spokesman said the retailer will study the results with a view to a full launch early next year.
He said: "It's very early days and purposely low key for the time being, while we test the functionality to ensure everything works and the experience is a good one for the customer. Our priority is to focus on delivering a successful Christmas, but we will look to officially launch early next year with a wide range of partners.
"We should have at least 10 partner offerings up over the next few weeks, including with DVD Gaming, which are the first to go live. Ultimately it's about complementing our existing core offer and filling any gaps so that we can extend an even greater content-related choice to our customers."