Launch of Xbox and eSports experiences
Physical games make way for digital products and accessories
More London stores to open
Game chief executive Martyn Gibbs believes the high street retailer is well positioned to capitalise on a market becoming increasingly dominated by digital products.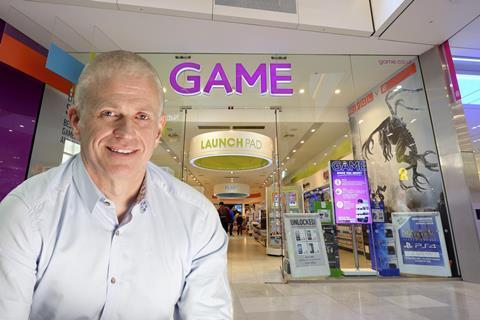 When strategy consultants OC&C forecast that up to 50% of gaming content could be digital-only by 2018 it is easy to assume the days of bricks-and-mortar games retailing are numbered.
But standing in the Game store in Westfield Stratford City, Gibbs points to a young boy playing with a Skylander toy as evidence of the durability of the real-life retailing experience.
"We have lots of products in the store and it is very experiential," he says.
Gibbs believes that in five years' time Game will have "roughly the same amount of stores" it has now despite the rapid growth of download-only games.
At present Game has 320 stores in the UK and 280 in Spain. There are plans for more shops in London, an area where Gibbs says the retailer is under-represented.
His optimism is built upon Game's ambition to "build the most valuable community of gamers" irrespective of the medium.
"You can't do that just in-store or just online. You have to go where gamers are … and sell the stuff they want you to sell"

Martyn Gibbs, Game
"You can't do that just in-store or just online. You have to go where gamers are and act the way they want you to act and sell the stuff they want you to sell and not what you want to push on them," says Gibbs.
In order to achieve this Game bought events and eSports firm Multiplay for £20m in May. Multiplay's flagship event Insomnia has grown so large it is being moved from the Ricoh Arena in Coventry to the NEC in Birmingham.
Game has started selling Insomnia tickets in-store – the most expensive costs £97 – to capitalise on the explosion of eSports.
The retailer also had a team of 50 staff manning four stores at the previous Insomnia festival but Gibbs believes even that was not enough and the number of stores at the next event could double.
In-store eSports events
Multiplay's expertise is also being brought to bear on the in-store experience. Last year Game hosted 3,200 in-store events and now it has begun holding eSports events in its Gateshead store.
The Gateshead Metro Centre store is two-and-a-half times the size of its Westfield Stratford City branch, which at 1,800 sq ft is around 500 sq ft bigger than the average store.
Game is also preparing to launch three Xbox experiences in different shopping centres on behalf of Microsoft. The experience will be run by Multiplay, while Game will handle the retail store element in what Gibbs describes as the best example of the new "cross-division co-operation".
The reimagining of the in-store retail experience is in part possible because of the rise of digital games, the product codes of which take up significantly less shelf space than a physical game.
Digital sales
Gross transactions of digital content grew 28.1% to £95.4m in Game's last financial year on the back of increasing the amount of digital products sold by 2,200.
In the place of bulky physical computer games visitors to store now find anything from novelty Fallout 4-branded Christmas jumpers to second-hand iPhone 6s and Lego toys.
These new product categories offer significantly higher margins than consoles. Gibbs highlights that last year Game made £10m of profits on consoles, but £30m on accessories.
In January Game was forced to issue a surprise profit warning after heavy promotions on hardware harmed margins over Christmas.
But the outlook for Game is a lot rosier now that many gamers have already bought their low-margin next-generation consoles and are stocking up on games.
Gametronics performing well
The Gametronics second-hand device business, which offers 25% to 30% profit margins, is also going great guns according to Gibbs.
"It is the fastest retail category I have ever been involved in," he says. "We are in a position where we do not have the volume of stock we want and are educating customers that we will purchase their pre-owned technology."
Game's success in mobile device sales has not yet been emulated by the Game Droid initiative, a foray into mobile gaming that has been put on the backburner.
"We are educating customers that we will purchase their pre-owned technology"

Martyn Gibbs, Game
"We learned a lot through that trial because we were in beta for a while and we are tweaking the proposition," says Gibbs. "We just think it is part of an ecosystem rather than an ecosystem in its own right."
Gibbs hints Game Droid will be folded into the firm's app and digital wallet, which have drawn more than 1.5m downloads and 550,000 registrations respectively.
Game will be keen to keep users in its own ecosystem to ward off the risk of being disintermediated as gaming turns increasingly digital.
The stores will continue to form a core part of that strategy as the retailer seeks to future-proof its position as the go-to place for games.
"Inherently the stores are facilitating the digital market," says Gibbs.
If Gibbs has his way it is far from game over for bricks-and-mortar games retailing.