As Daunt prepares to start a new chapter in the Big Apple, it is easy to see following his success at Waterstones why Elliott Advisors want him to lead its new purchase.
Daunt has run Waterstones since 2011, when he was brought in to turn the struggling business around.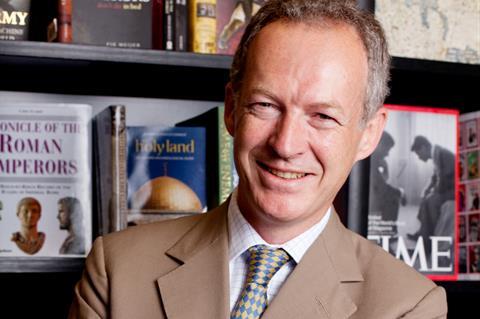 Waterstones had not been in the black since 2008 but by April 2016, it registered a £9.8m pre-tax profit, up from a £4.5m loss the previous year.
By April 2017, Waterstones recorded an 80% jump in annual profits.
Across the pond, struggling Barnes & Noble has 627 stores across all 50 states and made a net loss of $125.5m last year, which founder Leonard Riggio called "disappointing".
Barnes & Noble's total sales edged down from $3.89bn to $3.66bn as it struggled with "declining retail traffic".
Daunt's knowledge and experience makes him the obvious choice to turn Barnes & Noble back into a bestseller.
How will Daunt enable the American goliath to turn over a new leaf?
Turnaround plan
Daunt intends to take the same approach he took nearly 10 years ago when he started at Waterstones by "empowering local bookstores" and creating "better community bookshops up and down the land".
"I'll certainly take the strategy over but it's about understanding how flexible it is and effective it is and understanding what each bookselling team needs," he tells Retail Week.
Speaking on Radio 4's Today this week, Daunt explained: "I'm sure it will be a different recipe because in fact we have lots of different recipes going on [in the UK], but it will definitely be the same principle.
"You let each and every shop work out what is best for their place. Give them a bit of money and direction but ultimately leave them to turn their shops into nice places."
Former Waterstones head of buying Scott Pack, who is now editor at publisher Eye/Lightning Books, says: "There's bound to be lots of differences, but you'd assume there will be some strategies he can take across.
"He would have learnt a bunch of stuff from what he did with Waterstones and there will be a certain element of that that he can take over, but it's just whether or not that's what Barnes & Noble needs.
"He took a very bold decision with what he was going to change at Waterstones. It took a while for that to deliver a profit, but it does now and on that level, I guess it works." However, he adds: "It's very much 'wait and see' because it's such a different market in the US."
"I would feel very nervous if James takes his eye off Waterstones because he's put it in a strong position"

Sam Missingham, Lounge Marketing
When Daunt took the reins at Waterstones he gave the power back to each store and enabled managers to control stock and cost to provide more locally relevant offerings.
Bookselling specialist Sam Missingham, founder of author marketing service Lounge Marketing, says Daunt will try and replicate what he did with Waterstones by streamlining its staff – 200 booksellers lost their jobs in the early days of the turnaround – refurbishing stores, encouraging more author events to drive footfall and giving managers more power.

Making each store more relevant to its local customers differentiates the physical locations from Amazon, which focuses more on selling the top-charted lists both online and in its 17 bricks-and-mortar book shops in America.
Although Amazon revolutionised the bookselling industry 22 years ago when it started out as an online bookseller, avid readers remain keen to buy from a local store when it reflects their interests.
But Missingham believes it won't all be plain sailing.

"I personally would feel very nervous if James takes his eye off Waterstones because he's put it in a strong position but it's not beyond anything going wrong.
"Taking on Barnes & Noble – the scale in comparison to Waterstones – he's going to have to put a huge amount of effort into that.
"He's going to have to have a different strategy, just in terms of scale and the different markets. If you think about the scale geographically, about how far apart [the branches] are, and the fact they shop differently to us, he's got his work cut out."
Books vs Bezos
Another difference is the online offerings. Amazon has nearly the entire market share of digital ebooks in the UK, whereas the US is becoming more diluted.
According to the Association of American Publishers, the first two months of 2019 registered a 0.9% increase in physical book sales to $716m compared to a 3.5% decrease to $167m in ebook sales for the same period.
Barnes & Noble's ebook device Nook accounts for a 3% share ($111.5m) of the retailer's total sales, whereas in 2016 Daunt removed Waterstones' digital download ebooks option off its website.
"Physical bookstores the world over face fearsome challenges from online and digital"

James Daunt, Waterstones and Barnes & Noble
"The interesting thing for me is what he does with their digital strategy because he's been actively anti-ebook and digital in the UK," Pack says.
"In the US, it's different because Nook, Kobo and Apple have more of the market share, so he's actually taking over a business that's got a pretty healthy ebook market, which is something I don't think he knows much about or dealt with before.
"But if he's got a good team in place the CEO is there to guide and drive – but you've got to have a team in place," Pack maintains.
Daunt is sanguine. He says. "Both [Waterstones and Barnes & Noble] have faced the onslaught of Amazon.
"Physical bookstores the world over face fearsome challenges from online and digital, a complex array of difficulties that for ease and some evident reason we lay at the door of Amazon," Daunt says.
"One would be foolish to not count [Amazon] as a competitor," Daunt admits. "Our job is to make our shop sufficiently attractive and nice and hold our own – we do that alongside libraries, and we think very highly of them."
Future sale
Daunt says he's unsure what the next few years will bring as he "doesn't like to look that far into the future" but a sale is likely in the long term.
Former owner HMV sold Waterstones to Russian billionaire Alexander Mamut for £53m back in 2011 and after Daunt returned it to profit Mamut sold it to Elliott Advisors for an undisclosed sum.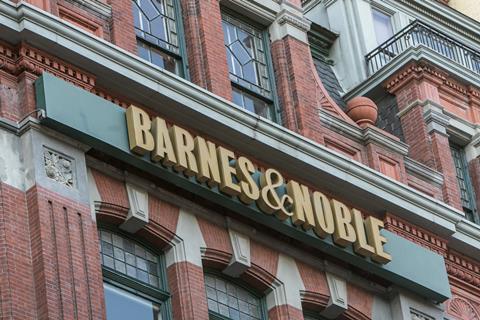 It seems that could be the plan for Barnes & Noble.
"It could be sold back to public ownership," Daunt says. "But it took me seven years to sell Waterstones."
As the Barnes & Noble keys aren't officially handed to Daunt until September, he has a few months to prepare for the task ahead. However, he has a clear idea of what he wants.
He says: "Our purpose is to create, by investment and old-fashioned bookselling skill, bookshops good enough to be a pleasure in their own right and to have no equal as a place in which to choose a book.
"We thereby counter Amazon's siren call and defend the continued existence of real bookshops. We do so now with all the more confidence for being able to draw on the unrivalled bookselling skills of these two great companies."
If Daunt is able to mirror what he has achieved with Waterstones, his happy ever after won't just be a fairytale.