David Robinson, managing director at Richer Sounds, on how the company has driven record profits and its new '360 degree installation service'.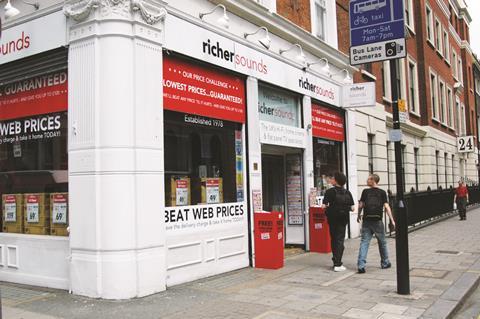 How did you manage to increase operating profits by 14% when like-for-likes only increased by 0.9%?
It was a case of working closely with our suppliers to ensure that we bought at the best possible prices, along with controlling overheads, in order to lower operating costs. We trade from small, secondary locations that keep our rent and rates to a minimum allowing us to pass these savings on to customers. In a recent survey of shops, Which? commented that customers love our prices.
The workforce has increased from 471 to 494. Is this a result of opening new stores?
We haven't opened any new stores this year and do not have plans to open any more stores, but we've now changed the way we operate. We have a VIP Club, which is free to join. VIP customers have access to our stores and sales colleagues between 8am-8pm. This allows them to shop and have demonstrations while the stores are closed. We need the extra colleagues to provide this service.
Is online now contributing to a greater proportion of your sales?
It has increased – we are doing 1% more than last year online, an increase of 4% to 5%. The core of our business still remains the in-store experience: with colleagues having specialist knowledge, being able to show comparisons between products, and explain the benefits of different models as the technology of home entertainment can be complex and is ever-evolving.
What were the particular highlights of the year just gone?
Highlights of the year would be retaining our Which? Recommended Provider status and recently coming joint third in their online shop survey, as well as being nominated for the Which? award for the fourth year in a row.
New initiatives that have performed well include our 360 degree installation service, which means that the qualified shop colleague that serves you, can also be the same one that comes to your home to do an on-site spec out and quotation. They then oversee the installation of the equipment purchased, as well as optimising it and showing how to get the best out of it.