Microsoft has unveiled its long-anticipated Regent Street store, marking its first flagship location in Europe. How does it stand up against tech titan Apple's store just around the corner? John Ryan reports.
"This is the missing piece for us." The words of Cindy Rose, UK CEO of Microsoft, do much to tell the story of the tech giant's tardiness when it comes to having a physical presence on the high street in Europe.
Now that gap has been filled and Europe's first Microsoft flagship has opened today on Oxford Circus, occupying the site of the former Benetton store that traded in the same building from 1995-2017.
This is a three-floor 21,932 sq ft affair, with two levels for shoppers and the top floor set aside for businesses and those wanting to discuss how they might incorporate Microsoft software and processes into their enterprises.
As such it does what others in the sector (for which read Samsung and Apple) do, offering an environment that purports to provide an 'experience' for those walking through its doors and to avoid the sense that it is just about shifting hi-tech hardware.
The store's senior manager John Carter says: "This is more than a store, it's a destination, right in the heart of London. Our store associates aim to be trusted advisors, providing unrivalled local tech support for businesses, learning institutions and individuals. We want to give people amazing technology experiences and learning opportunities."
The Microsoft experience
Entering the Microsoft store, the first thing that the visitor will probably notice are the walls. On the ground floor, many of these take the form of screens on which moving content appears and disappears with an emphasis in this store on making the link with London.
This is actually similar to the Apple flagship that is just around the corner on Regent Street, although the images are static there.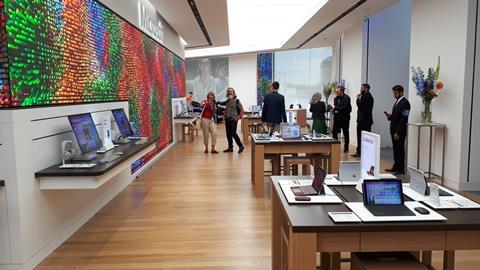 The net effect, however, is the same: this is brightly coloured wallpaper with graphics that look like the sort of thing produced by an agency filled with millennial graphic designers.
Then there are the mid-shop display tables. Like Apple, these are slick pieces of joinery, the only difference being that the tops are black instead of natural wood.
The ground floor tables are home to a range of laptops and a few pieces of AR trickery. One of these is a small, white architect's model of the Oxford Circus area which, providing the appropriate app is downloaded, allows the curious to view full-colour images of the locale on a mobile device.
It's a ground floor that does bear some comparison to the Apple store, but what is truly different?
On the right track
A stroll over to the far corner of the floor where a McLaren sports car is mounted on a low platform gives an answer.
This car can be driven. The potential racing driver sees another screen through the simulator's windscreen and can then race it around the Forza Motorsport track with the vehicle tilting and making the appropriate noises as it does so.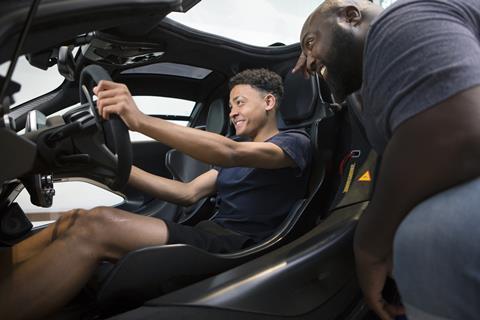 Boy racers and X-Box fans will approve and the whole experience is actually directed by a games console, concealed behind the machine's fuel cap.
Here the difference between this store and an Apple emporium makes itself more obvious. Microsoft is the developer and owner of X-Box and it uses this to this to put an in-store gap between itself and its rivals. It's a feature that is more fully developed on the first floor.
The X-Box experience
Walking up the almost entirely Apple-like wooden spiral staircase, the shoppers arrive at a first floor that divides into three.
Much of the floor is devoted to computers on wooden tables and an engraving machine where those wishing to have a bespoke tablet cover can arrange for this to become a reality.
A glass-fronted seminar room is home to a bookable 'community space' where classes on coding, program use and suchlike can be given.
On the day of visiting, pupils from a school in north London's Newington Green were being put through their Microsoft paces.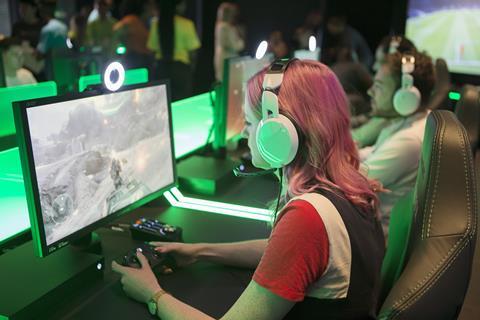 In truth, they would probably have preferred to be at the other end of the floor where they could have joined some of their classmates in the X-Box lounge.
This turned out to be a large room, with a foyer prior to entering filled with computer games along its perimeter wall, with lots of screens and gaming consoles.
Excited children were hard at work manipulating the images that appeared on screens in front of them using X-Box controllers.
In terms of gaming, this was clearly getting a thumbs up from the day-out-of-school children and this part of the store will probably prove to be one of its highlights.
Bookable workspace
And so, to the top of the shop. This is an invite-only space and, at first glance, it looks like a modern open-plan office with a series of hot-desks where people can plug in their laptops and do some work.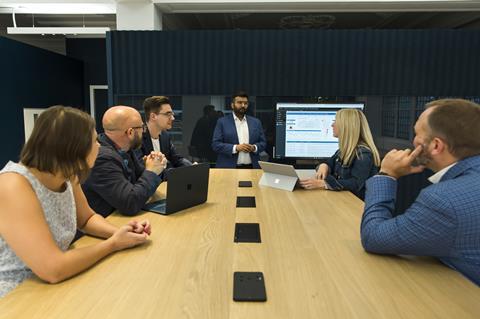 This is coupled with a handful of glass-fronted meeting rooms, completing the picture and making this a level that is about business.
It's perfectly pleasant but little more than that, and it is hard not to avoid the conclusion that this is about using a space that might have been deemed difficult to get shoppers up to.
Was it needed?
Is the first European Microsoft store simply Apple Lite? Carter says: "We're in the same industry, so of course there are going to be similarities. What Microsoft has to offer is the best in class in gaming and we have lots of unique experiences."
Carter has a point and although it is highly unlikely that this store will ever be even close to being profitable (given the location, business rates and rent), it does serve as a mark in the sand for Microsoft.
It will certainly engage two audiences: those who don't care for Apple and its products, and the massive number of nerdy gamers who want to test-drive new programs.
What it probably won't succeed in doing is taking die-hard Apple fans and making them Microsoft acolytes instead.
And whatever Microsoft might say, this does still feel a little too heavily influenced by what has been done by its opposition.
Tech. 2019
Shelley Bransten, corporate vice president, global retail and consumer goods at Microsoft, will be speaking at Tech. 2019 in London in October. To see the packed programme and buy tickets visit www.tech-festival.com
Watch: Will Microsoft store launch a new fleet of flagships?
1

2

Currently reading

In pictures: Does Microsoft's first European store stack up to Apple?