Dixons has launched a 'Gaming Bunker' to allow gamers to trial some of the highest-specification gaming technology on the market.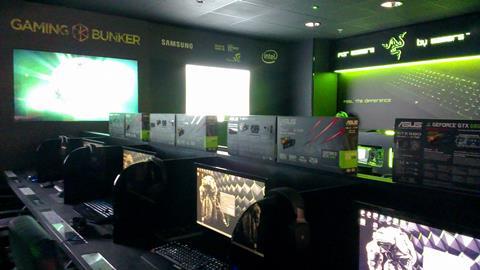 The retailer is hosting the 500 sq ft space in its flagship Tottenham Court Road Currys and PC World store featuring 10 high-end custom built networked PCs loaded with some of the best new free-to-play games including Hawken, League of Legends, World of Tanks and Planetside 2, as well as Assassin's Creed 3 and Borderlands 2.
In addition, it will feature the most-sought after, high-spec hardware to enhance gameplay, including 7.1 wireless headsets, the highest dots per inch mice and fully-programmable keyboards.
The retailer intends for the product range in the one-off trial – which also features PC accessories – changes frequently with new hardware and games releases.
The space will host events and product launches for the gaming community and allows Currys PC World to reach a new demographic of gaming fans.
Currys PC World category manager for PC Gaming peripherals and upgrades Simon Urquhart said: "We're incredibly excited to unveil the Gaming Bunker at our Tottenham Court Road store. The store has a great track record for hosting launches and events, so it's the perfect place for the UK's newest PC gaming destination; the most interactive space of its kind."
He added: "We look forward to introducing gamers to the best mice, keyboards, headsets and other essential PC gaming gear. But as well as being the best place to try out these superb products, we hope the gaming community will enjoy coming to events, launches and tournaments and get involved in making the Gaming Bunker a hub of PC gaming and eSports in the heart of London."
The retailer has previously used the central London store for the midnight launch of Windows 8 and it was also the first store to feature an in-store Google zone.