As Comet closes its remaining stores today, Alex Lawson met staff and shoppers in the last few hours before the shutters came down for the last time.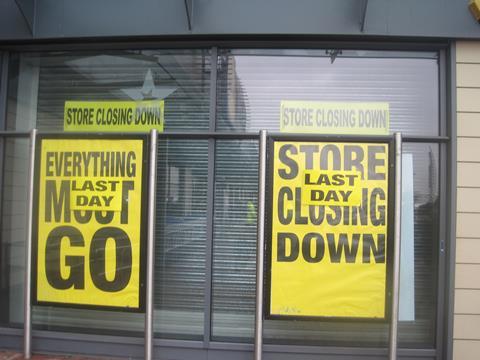 "Can I come in?" asks one forlorn-looking shopper.
"Not unless you work here mate and I wouldn't own up to that at the moment," responds one staff member from the Comet Tottenham Hale store through a crack between the closing doors. After the doors shut, throngs of shoppers peer through the window.
Staff at the store, one of the last to close, have battled chaos in the final hour of the shop's trading. The staff member, who has worked for the chain for 26 years, shepherds proceedings as bargain hunters fought for deals and staff chase the final few pounds owed to creditors. Much of the larger goods had already been sold but shoppers attempted to barter with staff over products already discounted by 90%.
The Tottenham Hale store, which had been selling products from two tables pulled together after cordoning off the majority of the shop, pulled the shutters down at 12.30.
Some customers emerge cheery – one man clutches three hobs bagged for £60 while another bows under the weight of an oven hood slashed from £60 to £6 – but most appear disappointed. "I thought there'd be a lot more," says one local resident. "I always came to Comet rather than Currys when I needed something, it's a real shame." Another shopper said staff had taken pity on her, on hearing the chain was to close down last night she came down to redeem £150 of invalid vouchers received last Christmas and managed to bag a fan and a waffle maker.
Staff appear to be making the best of a bad situation. Many laugh and joke, one pins a '90% off' poster to another staff member shouting discount prices like a fruitseller hawking bananas.
However, there are many brave faces being put on a difficult situation. One member of staff says: "The management in the store have been great, it's just the top level guys who I'm angry at."
Comet sales assistant Sherine Chalhie said: "I do not think management have handled it well at all. We have been a huge family here and it's sad that will be gone. Christmas is our busiest time but it's been like Boxing Day or New Year's Sales here the last few weeks. It will be a lot easier for us younger members of staff [to get new jobs] than the older ones. We want to hear from Henry [Jackson, managing partner of former Comet owner OpCapita]."
A number of staff say the local Currys store has approached them for jobs however it can only offer six hour shifts. Chalhie, a 24-year-old using her retail wage to support ambitions to be an actress, is more forthright. She said: "Currys is like a swear word in here, lots of people would never want to work there."
Staff have become resigned to the situation in recent weeks as first Jackson and then potential white knight Clive Coombes fell silent. Many questions remain unanswered for the board, but on the shopfloor an air of finality has descended.