The new owners of electricals retailer Comet intend to restore its value credentials as they prepare to fight against the dominance of Dixons in a rapidly changing market.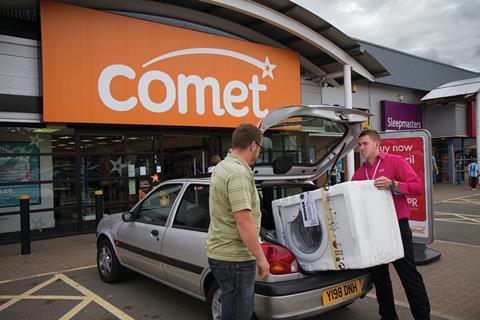 In a defining week for the electricals market, Comet was sold for just £2 to private investment firm OpCapita only two days after Best Buy Europe decided to cut its losses and shut its 11 UK big-box stores.
Despite Comet suffering a loss of £9m last year and a like-for-like sales plunge of 18.6% between May and the end of October, OpCapita managing partner Henry Jackson believes the retailer can be turned around.
Details of the revival strategy are yet to be finalised but Jackson said Comet must re-establish its reputation for value – its original appeal – among consumers.
"They have to recognise Comet for value. We should use promotional means to drive perception of value," he said. There will also be focus on operational improvement and maintaining service standards.
But Dixons chief executive John Browett, who has led the transformation of the Currys and PC World owner, said Comet's difficulties and Best Buy's retreat were evidence of Dixons' increasing appeal and it would not be beaten on value, choice or service.
Browett said: "The core thing is that customers choosing us has put the pressure on the other competitors. Over the last three years we have fixed a whole range of things.
"It's very difficult for them to compete on price. We won't give them a break on price and we also have great service."
Charles Dunstone, chairman of Carphone Warehouse, which operates the loss-making Best Buy big boxes in partnership with the eponymous US giant, acknowledged that improvements made by Dixons had dealt his sheds a powerful blow.
Dunstone said: "We should pay some tribute to John Browett and the team at Dixons in that their improving proposition, their improving stores, and their improving service has filled some of the void that we were going to target."
But Jackson is convinced that Comet's strength in white goods, OpCapita's access to the expertise of former Dixons directors – such as David Hamid and ex-chief executive John Clare – and the growth opportunities in technology are among the reasons why Comet can succeed.
He added that he has had "positive discussions" with suppliers and credit insurers.
He said: "Of course, there will be challenges, but we recognise that."
Jackson previously acquired MFI, which subsequently hit the buffers under another owner. He said he had been "gutted" by MFI's demise but was "very proud" of what had been achieved there while it was under the control of his team. He pointed to the example of continental furniture and electricals chain BUT – which he also bought out of Kesa – as evidence of his ability to build successful businesses.
Comet's existing management team, led by Bob Darke, is expected to remain following the sale.
Planet Retail research director Rob Gregory said it had been a landmark week for electricals. He said: "There's not room for three players and possibly not room for two."
For more see: