Weekly payment electricals and furniture retailer BrightHouse has recorded strong growth in its first half as it prepares to launch an ecommerce offering.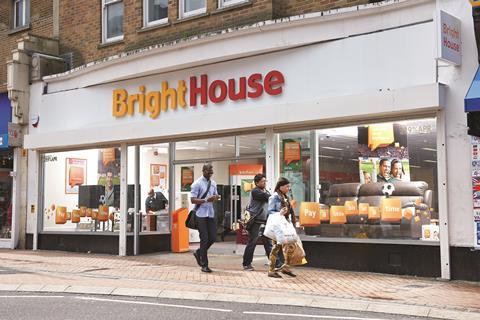 EBITDA was up 11.1% to £22.1m in the six months to September 30. Sales increased 13.2% to £142.8m, while like-for-likes jumped 7.7%.
The downturn-defying performance comes as BrightHouse begins planning a full ecommerce launch.
As part of its online overhaul, the retailer will allow customers to make payments online from June.
BrightHouse chief executive Leo McKee said the retailer's first ecommerce boss, who has not been named but will start in January, is expected to spearhead a launch after about 18 months.
The retailer will benefit from being able to show its full product offering online, according to McKee. He added: "Our customer is highly net-aware."
McKee said the online offer could also reduce the need for a large store portfolio.
The retailer plans to eventually have 650 shops across the UK. BrightHouse opened 16 stores during the six-month period, and a further six since September 30, taking its store count to 277. "It's the most we've ever opened in a half-year," said McKee.
The retailer plans to open 30 in total by year-end.
McKee said Comet's demise had lifted sales of large-screen TVs at BrightHouse. "There's an element of overflow from Comet," he said. He added that BrightHouse is hiring ex-Comet staff.
McKee remained cautious on the festive season. He said: "We don't think it will be a stunning Christmas, but it will be a reasonable Christmas. We are pursuing growth."
He added that amid the downturn BrightHouse had attracted more affluent customers.
"We're seeing a new kind of shopper, particularly in our new stores," said McKee. "We're seeing more salaried customers."
McKee said the Government's austerity measures had made BrightHouse customers "more insistent on value". He added that with less money to spare shoppers are proving "less likely" to trade up.
He added that the Government's focus on benefits and the planned implementation of the new Universal Credit have "implications" for BrightHouse.
The Universal Credit comes into force in October and replaces Jobseeker's allowance, tax credits, income support, employment and support allowance, and housing benefits with a single payment.
He added that the retailer is still a champion of British high streets, despite rising vacancy rates. "The high street isn't only where our customers shop, it's where they socialise," said McKee.
He said BrightHouse benefited in the first half from knowing its customer, delivering quality and delivering service as well as keen prices.
The retailer has also "massively stepped up the training for store managers in the past 12 months", said McKee.