Argos's website went down temporarily today as it launched a 12-day Black Friday Sales event across thousands of products.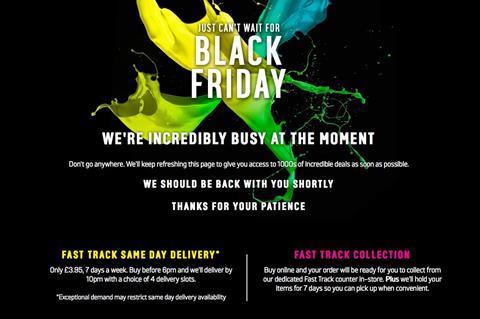 It is the second time the website has gone down this month as the Home Retail-owned retailer aims to capitalise on the Sales bonanza.
The website was out of action this afternoon for a short period, but is currently back up again. A message on the site read that it was due to high levels of traffic.
An Argos spokesman said: "We are extremely sorry for the temporary service issues our customers experienced on our website for just 15 minutes this afternoon.
"We have resolved the issue and our site is now up and running. We apologise to customers for any inconvenience caused."
It is a worrying sign for the retailer as it gears up for Black Friday. Earlier this month its website suffered a glitch and went down for some hours, prompting shoppers to take to social media to vent their frustrations.
Deals on Argos's website are being offered across electricals, home products and toys, and include a half-price LG home cinema system (£89.99) and a "less than half-price" George Forman grill (£24.99).
Retailers have been stretching out their Black Friday selling periods, while others have curbed their participation as Sales have become concentrated over the period. Last month Shop Direct said it is running a two-week long Black Friday promotion, while Retail Week revealed Asda is withdrawing from the event.
It comes as new forecasts from Visa Europe suggest around £1.9bn will be spent across all channels next Friday. Visa predicts £629m will be spent online, up 17% from last year. In-store spend is expected to be £1.19bn, peaking between 1pm and 2pm.
Amazon is currently advertising its "biggest ever deals event" on its website, which ends on Black Friday. However it is understood the etailing giant will release more deals this weekend for the US-inspired sales event.
Meanwhile sports etailer Wiggle has a countdown on its website to the launch of its Black Friday deals on Monday.