Electricals rivals are squaring up to grab share of Comet's sales in the wake of its demise, but can they avoid a similar fate?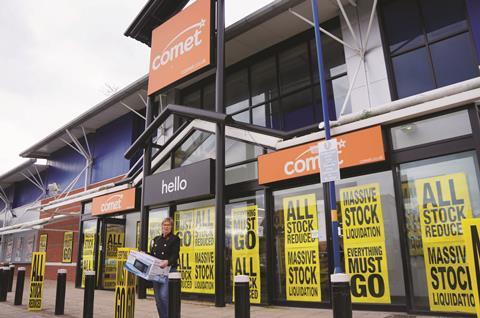 The rapid, if unsurprising, demise of Comet since its sale has once again thrown the harsh realities of modern retail into the spotlight. Arguably the biggest name in British retail to collapse since the failure of Woolworths, the cut-throat nature of electricals retail was exposed as shoppers complained that clearance Sale discounts weren't as cheap as they expected and Comet's rivals quickly put out a wave of advertising to cash in on interest in electricals.
But was Comet's collapse symptomatic of a sector typified by wafer-thin margins, or an isolated set of circumstances? The reality is a combination of both.
The electricals sector in general is tough, not least because of the margins, but also because of the intense competition between bricks-and- mortar retailers and online rivals.
Best Buy's unceremonious exit from the UK almost exactly a year prior to Comet's fall into administration reveals how difficult the category is, while Dixons has had to remodel its business to cope with a fast-changing environment.
Supermarket Tesco has also admitted that non-food sales of products such as electricals have slowed in store as shoppers turn to the internet for such purchases.
But however tough the market is, Comet is a unique case. While some retailers have built strong multi- channel businesses, invested in their service proposition and worked to give shoppers confidence in their brands, Comet has not moved quickly enough to differentiate itself.
Comet also has its own distinct set of circumstances. Controversy has surrounded OpCapita and its managing partner Henry Jackson, who bought the electricals retailer for £2 last year. Jackson promised to work to turn around the business over 18 months but Comet hit the buffers after less than a year, and there is speculation that OpCapita may walk away with a profit.
However, to give him his due, Jackson, who at the time of writing had not returned any calls, was the only party interested in taking on Comet in 2011, and former owner Kesa's keenness to distance itself from a potential administration was evidenced by the £50m dowry and retention of pension obligations written into the deal.
So is there a future for Comet? "It's very difficult to see anyone buying a large chunk of Comet," says Barry Gross, commercial real estate partner at law firm Berwin Leighton Paisner. "The electricals market is a very difficult, competitive market, with both the supermarkets and online making life tough. When OpCapita bought this business it was a failing business. That's why Kesa got rid of it. Kesa thought it required too much investment and too much risk. OpCapita is in the business of taking on risk, I'm sure its original goal was to try to gain credit insurance in six months in time for Christmas, but it failed."
Circling for assets
With hopes of finding a buyer for the whole business fading, Comet's assets are under the spotlight. Home shopping group Shop Direct is understood to be considering buying the Comet brand and website, possibly hoping to replicate its online relaunch of Woolworths, which Shop Direct bought from Deloitte in 2009.
Value retailers such as 99p Stores, B&M Bargains, Poundland, Dunelm and Home Bargains are eyeing Comet's stores, and are interested in buying them on short and long-term leases. Pets at Home, Waitrose and Aldi are also thought to have registered interest in shops.
Dixons and Maplin have been flooded with job applications from Comet's workforce, and both retailers are likely to be among those to mop up Comet's market share. Comet swiftly made 330 head office staff redundant, and its store staff look destined to follow.
The battle for Comet's market share has already resulted in Dixons, John Lewis, Argos and the supermarkets all launching targeted electricals marketing campaigns. Dixons – now the last really big electricals player – has also unveiled a high-profile Christmas advertising campaign.
Dixons is expected to be the frontrunner to take the majority of Comet's 7% market share to add to its 20.9% slice of electricals spending, according to Verdict. The retailer has already invested in stores near Comet shops and is in many of the same locations, making it the logical alternative. The Currys and PC World operator has already reported an uplift in traffic to its stores as a consequence of Comet's administration.
Of the other big players, Argos holds a 10.4% share of the electricals market, Apple 8.9% and Amazon 6.7%. They will all be gunning for an uplift in sales in the long run, despite the possibility of taking a short-term hit from Comet's likely closing down Sale.
Some retailers have benefited from Comet's clearance Sale. Maplin chief executive John Cleland tells Retail Week the retailer has enjoyed a boost in sales of products that complement those bought from Comet. "We have not seen any negative impact and are still tracking at high single-digit like-for-likes in the run-up to Christmas," he says. "We will do well off the back of Comet through the clearance phase. People are purchasing add-on products after clearance purchases."
Electricals sales remain hard-fought in a low-margin sector. Electricals deflation accelerated to 4.1% last month from 3.8% in September, but recent launches, such as the iPad Mini, are expected to provide a fillip for the Christmas trading period, according to the BRC-Nielsen Shop Price Index.
What has been dubbed a 'tablet bloodbath' looms as Microsoft, Amazon and Apple have all unveiled devices in the last few weeks, which will no doubt add spice to the fight for shopper spend in the run-up to Christmas.
A sector in decline?
The key question remains whether Comet's expected disappearance is indicative of a bricks-and-mortar electricals market that will only decline further.
Dixons chief executive Seb James has been clear that he believes Dixons' offer is well differentiated from Comet's and that he has future-proofed his business through the development of a multichannel offer.
Multichannel participation in the retailer's total sales in the first quarter was 48%. Multichannel, along with its service offer, Knowhow, gives Dixons a strong proposition.
A Dixons spokesman says: "We have moved in response to the way people shop. They research online before going in store for advice. You need to be everywhere customers want to be. We have been modifying our portfolio so we have less stores on the high street.
"Behind the scenes, we have improved. We took our call centre back four years ago and simplified the service. We have built a repair lab in Newark [Nottinghamshire] and shortened repair times as well as repairing products bought at another retailer for a fee. We have also built our distribution network, improved our delivery times and begun offering free recycling."
Currys and PC World shops also allow brands to showcase their products in ways that would be impossible online. In turn, suppliers are increasingly playing a key role in retailers' futures and have a vested interest in their survival as etailers drive down margins.
Powering ahead
John Lewis has achieved strong growth in electricals and home technology this year, tracking at 27% up in the year to date from February. John Lewis electricals and home technology buying director Ed Connolly believes the department store group is well placed to capitalise on both shoppers' enthusiasm for mobile gadgets and Comet's exit from the white goods market.
He says: "People are looking for re-assurance, which for us is underpinned by the value of the guarantee that people come to us for. In the wake of what's happened at Comet and Best Buy, people are looking for somewhere they know they can trust. We have been more professional in our buying, changed our position in the tablet market and offered inspiration underpinned by trust and good selection.
"Everyone will be jostling for position in the market. Shoppers will be considering where their allegiances are, and which retailers offer the best advice, assortment, online offer and aftercare." Connolly adds that John Lewis' strong multichannel proposition further enhances its appeal.
Cleland believes Maplin remains in a strong position and will not suffer the same problems as Comet. "The reality is that we are a business that is not hampered with debt. We have great owners who continue to see us grow.
"We are developing an omnichannel approach and seeing limited cannibalisation in our store expansion. The people we employ are technical experts and really justify our bricks channel."
Tesco has also acted to boost its electricals offer, taking products out of stores and moving them to the Tesco Direct non-food site as well as launching its online Marketplace with suppliers including Maplin and Purely Gadgets.
With Dixons the only large specialist left, Gross believes that a new model may be created by manufacturers. "Ultimately, the current situation could create a car showroom-type model where you have four or five manufacturers getting their product together, renting space and creating a showroom," says Gross.
"There will still be a market for those who want to buy physically and the manufacturer doesn't mind if sales are online or in store, so a showroom with kiosks could work well."
The electricals landscape will undoubtedly be different in a decade's time. Very few sectors are more starkly exposed to the ravages of technological change and the ever-growing number of online specialists creating vicious competition.
However, the specialists and generalists in the category have stepped up their efforts to ensure their future and will be determined to avoid Comet's fate.
Prospects for comet staff
Jeremy Ellerd-Styles, senior partner, AdMore Recruitment
Dixons will be able to accommodate a number of store-based staff on a temporary basis. However, unless Dixons picks up a significant proportion of Comet's market share, it is unlikely that there will be a large number of permanent hires in the new year.
The more likely consequence is that there will be pressure on more senior staff to take less well-paid jobs, particularly given the time of year and the availability of vacancies, which we have seen previously following the collapse of Woolworths, Peacocks and JJB Sports.
While Comet and Dixons' respective head offices are in close proximity, which helps the situation, it is unrealistic to expect Dixons to take on that volume of headcount. In reality, it will cherry-pick people with specialist skills.
John Lewis, Amazon and Argos are all well placed to pick up market share so it is likely that they will take on staff with specialist experience, such as buyers. The vast majority of staff will have a transferable skillset, and given that the recruitment market is far more stable than it was when Woolworths collapsed in 2008, it is not quite as bleak a scenario as we have previously seen.
That said, the real challenge will be faced by those staff members who have not had to look for a job for a long time, given that the dynamics of job-hunting have changed beyond all recognition over the past 10 years.