As Dixons Carphone unveils a sharp decline in preliminary profits, chief executive Alex Baldock explains his plans to "stop the bleeding" and transform the struggling business
Since taking the helm of Dixons Carphone in April last year, former Shop Direct boss Alex Baldock has had his work cut out.
A month into the role, Dixons Carphone issued a profit warning closely followed by an interim pre-tax loss of £440m in December, triggered by a £490m charge that primarily related to a loss of goodwill of its mobile business.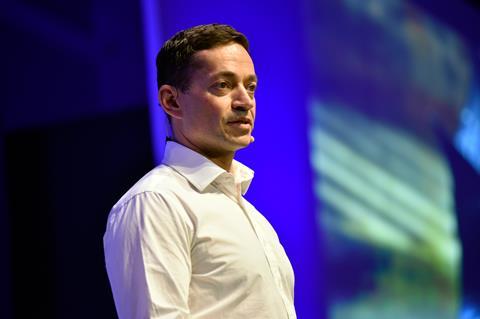 Today, the electricals retailer posted a 22% fall in pre-tax to £298m in the year to April 27, 2019, as UK and Ireland mobile sales shrank 11% to £2bn.
Dixons Carphone's share price slumped 28% in the wake of the announcement and the City seems unconvinced by the business' turnaround plans.
Investec analyst Ben Hunt says: "We continue to believe a new strategy is lacking given that guidance implies flat profit growth over three years."
As Baldock pushes on with his five-year transformation plan to deliver a more valuable business and merge the Currys PC World and Carphone Warehouse teams, he admits there is still "more pain" for the group's mobile phone division.
Worse before it gets better
Dixons Carphone warned its UK mobile division would be "significantly loss-making" in the current financial year as Baldock steps up transformation plans, dragging anticipated full-year profits down to approximately £210m – markedly below analyst forecasts of £296m.
Baldock says: "We're still pretty excited about the mobile proposition that we're developing. We think it meets the demonstrated customer needs and plays to our strengths. We're not stopping our ambition of breakeven but what we are doing is making sure that the bleeding in mobile stops and stops this year."
Baldock places the lion's share of the blame for Dixons Carphone's haemorrhaging mobile sales on the retailer's obligation to legacy network contracts.
"The reason we can't take full advantage of the preparation work we're putting in now is because we're constrained," Baldock says.
"We've got these legacy network contracts, which have hard-volume commitments in them that are eye-wateringly expensive if we don't hit them."
"I can't sit here and promise there will be no people impact at all from bringing Currys PC World and Carphone Warehouse together"

Alex Baldock, Dixons Carphone
Being tied to selling a "certain number of 24-month contracts" is out of step with current customer demand for either 36-month contracts or SIM-only mobile deals, and Baldock attributes them for two-thirds of the group's full-year profit decline.
Add that to a declining mobile market and he says the business has been given no choice but to "price keener", which has come at the expense of margins.
To avoid paying the hefty fines to network providers if Carphone Warehouse doesn't sell the target number of 24-month smartphone contracts, the mobile phone retailer is selling many of its phone contracts at a loss to the business overall – a position it will continue to be in for its current financial year until renegotiated contracts with network providers come into effect.
Chief financial officer Jonny Mason said: "Each individual connection isn't sold as a loss but what happens is the sum of the profit from all the connections is not enough to pay a very large central cost we've got for running a duplicate IT system and overhead structure."
Cutting costs
Baldock says completing the internal infrastructure of merging its two brands – Currys PC World and Carphone Warehouse – will produce around £200m worth of savings by 2022, a target that was brought forward by two years in today's results.
"In many ways, these are still two businesses," he says.
"Head office and some central functions are together. But in terms of people, data, process and most importantly technology these are all still separate businesses. The big savings come from technology because at the moment we're running two completely separate and very large and complex technology stacks. We're bringing those technology stacks together into one improved platform."
While Baldock says the bulk of cost savings will come from the technology efficiencies, he does not rule out that there may be a reduction in headcount as well.
"There is a question mark around the company's ability to adapt quickly enough… its portfolio of over 1,000 stores in the UK looks way too heavy"

Patrick O'Brien, GlobalData
"The big saving comes from technology itself but clearly over time we need to be more efficient and [I] can't sit here and promise there will be no people impact at all from bringing them together," says Baldock.
"We need to be super-efficient because this is the market we're in. We've got 40-odd thousand people across this business and what we're seeking to do is make this business a sustainable success not just for the millions of customers but in terms of people we employ as well."
Another opportunity to improve profitability at the group lies in working out new terms for the legacy contracts hanging over the head of its mobile phone division.
Dixons Carphone is tied into the legacy contracts until 2021, so until then Baldock says the business is doing as much damage control as possible by renegotiating with network suppliers.
"What we've managed to do over the last six months is ease those commitments. Our results in this financial year will be £60m better than if we hadn't renegotiated the contracts," he says.
A new ID
Beyond these renegotiations, the Dixons Carphone boss and his team are also bolstering the business offer to ensure it is working at peak performance by 2021 – when the business is free from the shackles of its legacy contracts and able to offer longer-term, credit-fuelled contracts or SIM-only deals across the network providers it is partnered with.
The business has brought forward its plans to launch its own credit offering for mobile phone deals under its own-brand network iD, which it now plans to roll out in its current financial year.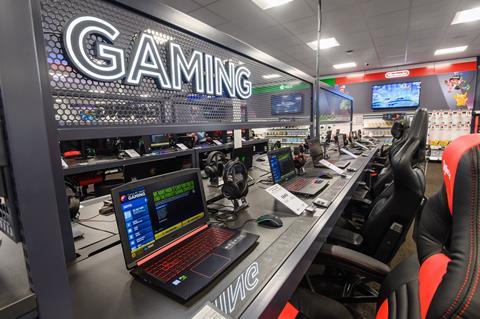 "We're working to offer longer contracts and we're going to get it out this financial year," Baldock says.
"We're building our own credit bundle and it's slightly ahead of what we committed to back in December.
"We can and are building up our own offer both in terms of SIM-only and our own credit contracts… but we're not going to be able to make the most of that with customers during the life of [legacy network provider] contracts."
There is a little bit of light at the end of the very long tunnel, though. As 5G connectivity is rolled out in the UK, Baldock is confident Dixons Carphone is ready to offer the best deals to bolster mobile phone demand, including on its own network.
"We have a secure supply of competitive connectivity with our deal we've signed with Three for our own network iD," he says.
"Three is going to have the most bandwidth for 5G as well, which will give us a further tailwind down the line."
Alongside its mobile offering, Baldock says there are "plenty of interesting growth opportunities" for Dixons Carphone.
"Gaming has been the pilot for the new more exciting experiential experience that customers will get in-store and that's gone really well," he says.
"Large-screen TVs do pretty well already, and we see further growth in that and that's why they're getting more space in our stores. Smart home technology is another area that's going to get more space in stores."
Siding with stores
As Baldock makes changes to the product share in-store and more sales move online, it is inevitable that he expects to have fewer stores in the future.
The group has 991 stores across the UK and Ireland, 630 of which are Carphone Warehouse's. GlobalData UK retail research director Patrick O'Brien believes Baldock will need to take decisive action to downsize its bricks-and-mortar estate if his transformation plan is to succeed.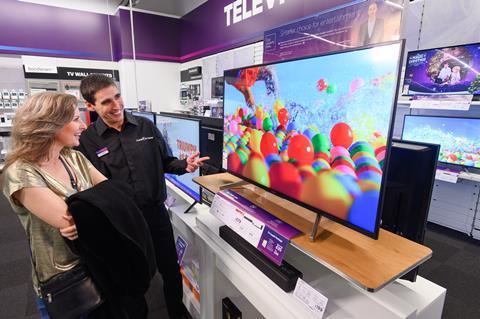 "While he quickly identified the problems of the mobile business, there is a question mark around the company's ability to adapt quickly enough, and despite the closures in the last year, its portfolio of over 1,000 stores in the UK looks way too heavy," says O'Brien.
"Baldock may have to take further action here, which would be costly.''
However, when asked if he should have closed more than the 92 Carphone Warehouse stores the business unveiled plans to shut last year, Baldock replies with a definitive "no".
While he doesn't rule out the possibility of further store closures, he stresses that a significant downsizing of Dixons Carphone's store estate is not part of his transformation plan.
"What we are making sure of is having flexibility," he says.
"We're down to an average remaining lease length to 2.2 years on the standalone Carphone stores and we're achieving 24% rent reductions on the Carphone Warehouse stores as well."
Baldock's transformation plan has had a rocky start but he appears confident that he has mapped out a route that will lead to greater profitability for Dixons Carphone in the years to come – albeit a winding one.
Analysis: How Dixons Carphone plans to regain signal
1

Currently reading

Analysis: How Dixons Carphone plans to regain signal

2

3