Angela Ahrendts' departure from Apple prompted headlines worldwide. What does the nature and timing of her exit mean for the future of Apple's retail business?
When Angela Ahrendts was named the new vice-president of retail at Apple in 2014, she became the highest paid executive in the company. She went on to become a trusted lieutenant of Apple boss Tim Cook and was tipped by some to be his chosen successor.
Her decision to leave the business last week came as a shock. Ahrendts said she intended to focus on "new personal and professional pursuits". Cook described her departure as "bittersweet" and said that she had been a "positive, transformative force" at Apple.
But despite Cook's kind words, some media coverage adopted a less fulsome tone. The Washington Post questioned whether "the shine of its [Apple's] signature stores has dimmed" under Ahrendts' tenure. And NBC News wondered if Apple had got a good return on the $170m (£131.4m) it paid Ahrendts over her five-year stint.
"She entered Apple at a very rocky point in terms of their retail apparatus"

Above Avalon's Neil Cybart
There is no question that Apple's sales are under pressure. In its first quarter, sales were down 5% – missing previous guidance – as tough conditions in China, leading to lower iPhone sales, took its toll.
In the Post, Wedbush Securities managing director Daniel Ives said that the timing of the Ahrendts news came as a surprise, and he had mixed feelings. "In a nutshell, while the timing of this departure is a head-scratcher, change could be a good thing for Apple as the last year has been nothing to write home about [for the business generally]."
However, for specialist Apple analyst Above Avalon's Neil Cybart, the rush by some to question Ahrendts' tenure is uncalled for. He says Ahrendts cannot be blamed for the company's falling profits. For him, her time at the business should be considered a success – particularly given where the retail arm was when she arrived.
"I don't think those criticising her are giving her enough credit for what she did," he says. "She entered Apple at a very rocky point in terms of their retail apparatus. They had had leadership turnover – a pretty long period at that point without any leader at all.
"According to my estimates store traffic was in decline at that point and, frankly, Apple retail was looking for its next step."
Her legacy
Cybart says that Ahrendts' legacy will be one of "steadying the ship".
Having joined Apple after a glittering eight-year tenure at Burberry, the pressure was on Ahrendts to deliver transformative change at its retail division.
"She oversaw two really big changes, her two major accomplishments: the first being the major redesign of Apple stores and the second being that she helped combine Apple.com, Apple's online store and Apple's physical stores in a way that they simply didn't before," says Cybart.
"She changed the purpose of Apple stores from being a place of selling to a place of customer interaction"

Neil Saunders, GlobalData
In her time, Ahrendts decided to cut back on opening a large number of relatively small Apple stores and, instead, put her focus into creating large, flagship stores. Apple now operates a 506-strong estate, the majority of which she helped design to resemble cavernous glass and chrome cathedrals to the religion that is Apple.
Ahrendts was also deft at tapping into this almost cult-like devotion to Apple products when it came to her other in-store innovations. She spearheaded Apple's 'Town Square' open layouts and rolled out various initiatives at stores, enabling customers to come in and learn how to get the most from their new iPhone or iPad.
GlobalData managing director Neil Saunders says that it will be for such initiatives that Ahrendts' contribution at Apple will be best remembered, and that she moved the retail business on.
"She changed the purpose of Apple stores from being a place of selling to a place of customer interaction. That's a very strong legacy to leave," he maintains.
Saunders believes Ahrendts has done a "very good job" and, if anything, has been held back by Apple's recent lacklustre showing in innovation and product design. It is because of this, says Saunders, that Apple finds itself in the doldrums.
"The big problem Apple has at the moment is that its products just aren't innovative enough. They're not exciting enough to get people to spend the big bucks on. The product side has very little to do with the retail side, and I think that's a conflict within Apple," says Saunders.
Is that possibly one of the reasons that Ahrendts left?
Next moves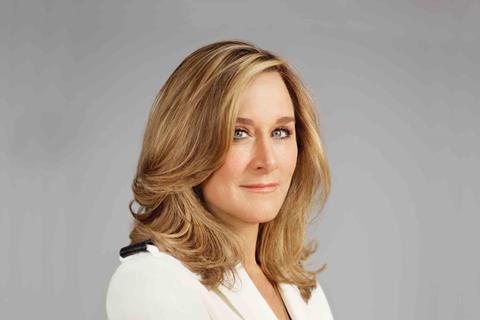 Saunders believes that she had simply gone as far as she could with innovating at Apple's retail arm. "I think there's very little for her to do there now, in many ways," says Saunders. "She could oversee the operations of the stores, sure. But, in terms of really exciting projects, I don't think there's much there."
Ahrendts' successor will be Dierdre O'Brien, an Apple veteran who has worked for the company for more than three decades. Formerly vice-president of people, O'Brien will take on Ahrendts' retail responsibilities as well – a move that has surprised some.
For Cybart though, O'Brien's appointment is not a mere stopgap. He believes the appointment highlights the fact that, for the moment at least, Apple stores will continue in a similar vein to the way they were running under Ahrendts.
He says: "O'Brien will be focused predominantly on employee morale, I'd have thought. I don't think she's going to have to do the kind of transformational change that Angela was tasked with. It's a little bit more manageable now than if she was taking over Apple retail five years ago."
Saunders disagrees. He thinks that in the longer term, Apple will likely seek to hire someone "to do more with the stores and evolve them again" – although he is in no doubt that O'Brien brings a strong skillset to the role as a manager of people.
What the future holds for Ahrendts herself is more difficult to ascertain. Cybart believes she may just "take some time off" but, in a recent interview with Vogue published a few months before she left Apple, Ahrendts perhaps gave a hint.
She said: "I loved fashion for 40 years. It is wonderful when you know everything there is to know about the industry because you grew up in it. There are things about the fashion industry that I miss."
There has already been speculation that Ahrendts could be heading to Ralph Lauren. Having switched from macs to mobiles when she left Burberry for Apple, she may now take haute couture hi-tech.