On the day of the 20th anniversary of the first secure online transaction and the birth of ecommerce, Retail Week studies the big numbers from eBay's history.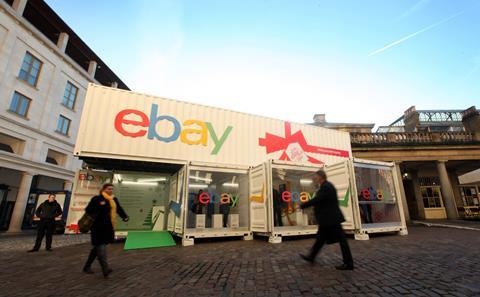 £2.89
The cost of the first item sold on eBay's UK site, a three track CD from German rock outfit The Scorpions.
14
The number of gifts bought on eBay each second last Christmas.
£103,000
The amount paid for Margaret Thatcher's handbag.
£81,100.01
One eBay user paid this amount for Princess Beatrice's pretzel-shaped royal wedding hat with proceeds going to Unicef and Children in Crisis.
7
Every seven seconds a pair of shoes is sold via a mobile device.
19m
Over one third of Britain's adult population visit eBay every month.
25m
The number of businesses and consumers selling products on eBay.
£61,000
How much the skeleton of a woolly mammoth sold for in 2004.
$4.9m
A Gulfstream II Jet was the most expensive item ever sold on eBay and fetched this sum in 2001.
Video: Online retail celebrates 20th anniversary of first sale
1

2

3

Currently reading

In numbers: Nine facts about eBay on the 20th anniversary of ecommerce

4