The Cognizant Digital Pioneer of the Year has won this award by being outstanding in a category that by definition requires absolute excellence.

In 2017 nobody needs to be reminded how vital a sharp digital strategy is.
The rapid advances in technology over the past decade have dramatically transformed shopping and retailers, from independent clothing stores right up to giant supermarket chains.
Which made the challenge laid down by The Cognizant the Digital Pioneer of the Year category even greater: for a retailer to prove it is "leading the way" in this competitive digital environment and "changing the way we view the use of technology in retail".
"It's no longer just about fulfilment; customers need to be able to use their visit to explore, interact and engage with our products – otherwise, why visit a store at all?"
The winner needed to achieve something outstanding, which is what Dixons Carphone did with its ongoing digital transformation of stores.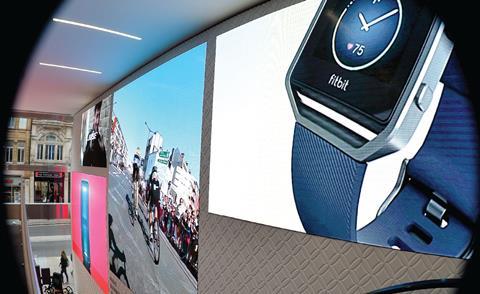 When Dixons and Carphone Warehouse merged in 2014 the company had a big challenge ahead of it, but also huge opportunity.
Each brand had a large store portfolio, including in sectors under pressure from ecommerce rivals. Combined, the company had space aplenty and an opportunity to do business in new ways.
Stores were merged, as well as the companies. Three years later, the group's stores are a fixture of the high street and in retail parks and, as this award recognises, are innovating in exceptional ways.
Innovation has been driven by Dixons Carphone's recognition that "with about nine out of 10 of our customers starting their shopping online, and many making their final purchase there, the role of our physical stores is changing.
"It's no longer just about fulfilment; customers need to be able to use their visit to explore, interact and engage with our products – otherwise, why visit a store at all?"
Digital times are recognised in digital ways. Stores have been transformed with 4K distribution to create immersive 'vision areas' to showcase the latest TVs in all their glory.
Outside selected stores – such as its Oxford Street flagship – the signage is also digital.
Hi-tech playrooms
To create another magnetic feature within stores and to enable customer interactivity, digital imaging walls have been installed, allowing shoppers to try out and compare the full range of digital cameras, and see their results in real-time on a large 4K screen.
It was features such as these – combined with the introduction of staff smart watches to check stock levels from the shopfloor and special kiosks to speed up click-and-collect – that won the judges' approval.
One said: "Dixons Carphone is coming at this from a different point of view by looking at how to get stores into the digital age."
Another said: "We all know how difficult it is to match this all up in a truly omnichannel way, and Dixons Carphone has done that.
"There are some really exciting features in the stores, which are about getting people in rather than staying at home to shop."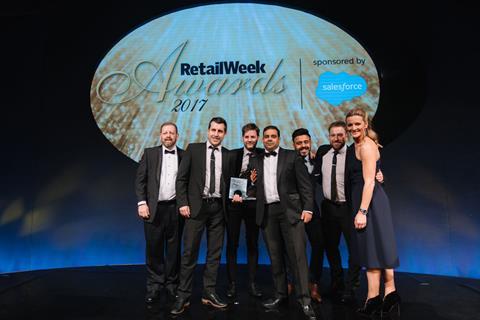 Mark of Excellence: Notonthehighstreet.com with Elevaate
With so many strong contenders in this category, the judges felt it right to recognise a second retailer for another exceptional entry.
Notonthehighstreet.com's technology platform for creative small businesses – developed in conjunction with Elevaate – is about giving more exposure to partner businesses by allowing them to promote products and send them higher up the list of search results.
The initiative has also created a new revenue stream for Notonthehighstreet.com.
Along with a number of innovations by the etailer, including being the first European brand to put a shopping app on Apple TV, compelled judges to award it a Mark of Excellence.
One judge said: "It's working well and it's an incredible model, with such a diverse range of business in different countries."
Cognizant

Cognizant (NASDAQ: CTSH) is a leading provider of information technology, consulting, and business process services, dedicated to helping the world's leading companies build stronger businesses.
Headquartered in Teaneck, New Jersey (US), Cognizant combines a passion for client satisfaction, technology innovation, deep industry and business process expertise, and a global, collaborative workforce that embodies the future of work.
With more than 100 development and delivery centres worldwide and approximately 255,800 employees (as of September 30, 2016), Cognizant is a member of the NASDAQ-100, the S&P 500, the Forbes Global 2000 and the Fortune 500, and is ranked among the top performing and fastest growing companies in the world. Cognizant.com or @Cognizant on Twitter