Founder, Notonthehighstreet.com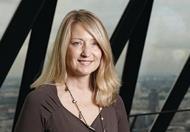 Sophie Cornish founded Notonthehighstreet.com with her partner Holly Tucker back in 2006, and now works with over 2,000 small business partners selling more than 35,000 products.
Sales continue to grow quickly – its turnover was £15.1m last year – and Cornish has become one of the stalwarts of the ecommerce world as well as a postergirl for female entrepreneurs.
In September, the company announced its intention to go international with a raft of new talent it hopes will take it there. Jason Weston, formerly of Amazon, joined as chief operating officer, Mark Hodson of Paypal UK became chief marketing officer and Maya Moufarek of Google's EMEA emerging markets team joined to spearhead the company's international move.
As with any good etailer, Cornish has ensured the site remains innovative and in June the company became the first online retailer to offer group gifting, which allows groups of friends to share the cost of a more expensive product by letting them each pay a portion.
Cornish makes the most of her success story so far to garner press coverage, and is a columnist for Stylist. She is well placed to achieve her vision of making the site a recognised international brand.