The John Lewis Partnership has lost sales over the last two months after suffering a shortage of gift vouchers following its supplier's collapse into administration.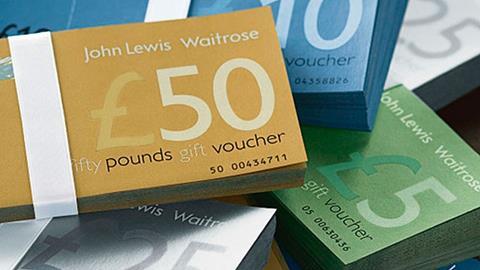 The problem came at a key time for gift voucher sales because summer is the wedding season and John Lewis is among the top retailers catering for the wedding gift market.
The Partnership, owner of eponymous department stores and the Waitrose grocery chain, has had to rely on limited reserve stock since security print firm BemroseBooth was put into administration in June. Some stores contacted by Retail Week had no vouchers while others only had restricted denominations.
Staff at the retailer have reacted with concern to the situation. One Waitrose partner wrote to in-house magazine The Chronicle: "Our branch can sell up to £1,500-plus in gift vouchers a week but
we have none. So not only are our sales affected but so is our bonus, which is beyond our control."
The retailer responded by admitting the problem was "unprecedented" and that "the supply of gift vouchers is a serious issue affecting our customers, our branches and ultimately our sales".
The Partnership has appointed a new supplier and a Waitrose spokeswoman told Retail Week the first delivery of new gift vouchers would arrive "shortly".
A John Lewis spokeswoman said: "This situation has been mitigated by the use of reserve stock… and as a result we have been able to continue to meet customer requirements."