Selfridges has claimed to be the first department store in the world to open its 2015 Christmas shop as it bids to capitalise on summer tourist trade.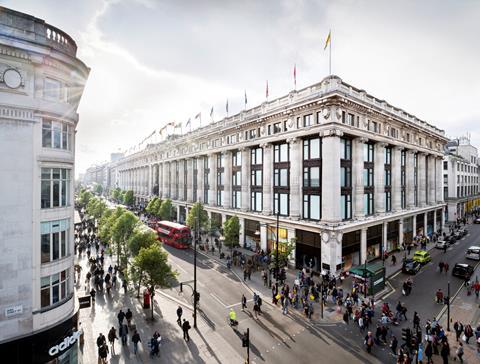 Selfridges launches Christmas shop in flagship Oxford Street store
The 3,000 sq ft area will double in size in the autumn
It will stock more than 1,300 decorations and 60,000 baubles
The retailer has given part of its Oxford Street store a festive makeover with 143 days still to go until the big day. Almost 3,000 sq ft of Christmas shopping space opened to customers yesterday, and the area will double in size to more than 6,000 sq ft in the autumn.
A section of the fourth floor of Selfridges' London flagship has been kitted out with thousands of Christmas decorations. This year's big trends include personalised decorations, black and white monochrome and iconic London decorations, which are expected to prove popular even with more than four months remaining until the big day.
Selfridges' Christmas theme centres around 'Journey to the Stars', which store bosses said is its "most unconventional Christmas scheme to date."
The department store's Ultralounge will be converted into the Astrolounge concept space, selling a host of astrology-themed products.
As revealed by Retail Week, online marketplace Etsy will form part of the festive concept space, which runs until Christmas Eve.
It will include more than 150 lights and tree options, 120 different Christmas crackers, 1,250 different cards and wrapping papers,1,300 decorations and more than 60,000 baubles.
Selfridges Christmas home and decorations buyer Geraldine James said: "Despite the summer weather, we're in full festive mode here at Selfridges. We've been working on this year's Christmas Shop since Christmas last year.
"We have so many customers visiting from all over the world and eager to snap up festive souvenirs on their summer holidays, which they can't buy at home. So, we have to make sure we're ready to showcase Christmas decorations they will truly treasure.
"We also have a large number of domestic customers who love to Christmas shop very early in the year to ensure they can take their pick of the very best selection available, whilst all collections and product are available.
"We've been opening the doors to our Christmas Shop during the summer for years now and have become a real destination for those fans of Christmas and festive decorations within and outside the UK. Some of these customers return to us year after year, excited at the prospect of discovering the new collections."